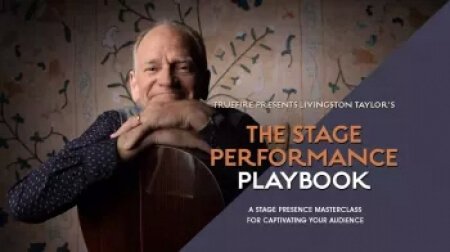 Livingston Taylor's The Stage Performance Playbook
A Stagecraft Masterclass for Captivating Your Audience
Founder's Note
"Three years in the making, filmed at multiple locations, hundreds of hours piecing it all together - this is an extraordinary TrueFire learning experience. You won't learn a single new lick or cool chord voicing in this 5 1/2 hour masterclass but put Livingston's stagecraft principles to work and your audience will be talking about you all the way home." - Brad Wendkos, TrueFire Founder
As music learners, we're so focused on advancing our skills that we tend to forget that we practice to eventually perform and entertain an audience. Whether you perform for family and friends, play at local open-mic nights, or headline world tours - it's your stagecraft that makes or breaks that all-important connection with the audience.
Livingston Taylor's Stage Performance Playbook draws on 50 years of experience as a touring singer-songwriter and thousands of hours teaching the art and craft of stage performance as a Berklee College of Music professor. There's simply no one better qualified to guide your rite of passage on your way to becoming a "great" performer.
"What is a performance? Most artists think it's something that's done to an audience, that an audience comes in and they either like it or don't like it. But it's not like that at all. A performance is an exchange of intimacies. An audience will not accept your passion until you have proven your discipline and that's when you open up the possibility for intimacy with an audience.
The Stage Performance Playbook steps you through dozens of proven, road tested approaches for expressing and exchanging those intimacies with your audience. I've included 19 live performances to illustrate how these principles come into play on the stage, in front of a real audience. We'll also cover off-stage best practices that are just as important."
This indispensable 5 1/2 hour Stage Performance masterclass includes 52 video lessons, 19 stage performance examples, and 11 homework assignments to help you assimilate the principles and make them your own.
Livingston organized the course into focused sections: What Is A Performance, Your Audience, Nervousness, Internalized Time, Lyric & Melody Delivery, Practice, At The Venue, The Flow Of Your Show, Song Introductions, Being On Stage, and After The Show.
You'll learn how to conquer your obstacles and fears, engage an audience, and elevate your performances every time. You'll learn how to keep stage fright at bay, how to draw the best playing out of your bandmates, and how to get past a bad flub onstage. He'll show you how to internalize a beat to create an environment that captures and holds an audience. You'll learn the value of coherent melodies, clean chords, crisp stage banter, and so much more.
You'll have TrueFire's intuitive learning tools at your fingertips to personalize your workspace and learn at your own pace. You'll be able to loop, slow down, or speed up any section of a lesson. We've even tabbed and notated all 19 of the song performances!
Tune in now and power up your stagecraft with Livingston Taylor!