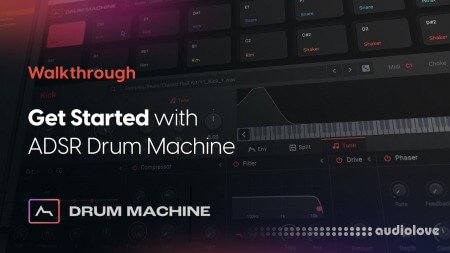 Walkthrough all of ADSR Drum Machine's Key Features & Functions
Explore ADSR Drum Machine in depth from navigating the interface, to loading kits, browsing factory content and applying a wide range of FX, to making best use of the sequencer and the onboard mixer. This course is a quick and effective tour to get you up and running and laying down beats straight away
Discover what ADSR Drum Machine has to offer with a comprehensive overview to get you up and running and your creativity jamming.
ABOUT ADSR Drum Machine
A simple, smart and elegant Drum Machine. Intuitive, fully featured and packed with an extensive library of kits and patterns, this short course takes you on a deep dive so you can get you up and running with ADSR Drum Machine as quickly as possible.
Walkthrough all of the core features including sounds and kits, FX, the sequencer and the mixer
ADSR Drum Machine's easy-to-use design includes 16 pads + tabbed Browser, Sound & FX, Sequencer and Mixer. Intuitive, fun and functional, we've optimised every tab to save you time and frustration.
Powerful onboard processing provides new levels of control giving you freedom and confidence to express your rhythmic ideas. A 3-stage envelope, per pad pitching and per pad multi channel processing set a new standard to tune your drum kit before and as you start playing!
COURSE FEATURES
Watch, Listen and Learn – our easy to follow video instruction walks you through all the features and how to use ADSR Drum Machine
1 hour
of professional video instruction
Structured by features so you can easily find the right lesson and refer back to relevant sections in the weeks and months to come
5 in-depth videos
each giving a thorough walkthrough of working with ADSR Drum Machine
Overview
Kits
Sounds & FX
The Sequencer
The Mixer
Understand both theory & practice with an accomplished Producer and Beat Maker
Learn at your own pace, watch as many times as you need to learn the lessons