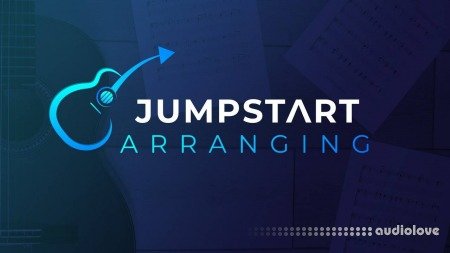 What if you could create your very first guitar arrangement with minimal music theory knowledge and with the guidance of a professional guitarist every step of the way?
A beginner arranging course built from the ground up with 2 purposes in mind:1. To simplify the arranging process
Teaching only the musical concepts you absolutely need to make your own guitar arrangements - showing you that you don't need to be a guitar virtuoso or know a ton of music theory to start making your own arrangements of the music you love
2. To guide you step-by-step through your first guitar arrangement, from start-to-finish
Teaching you how to arrange by getting hands-on, and actually arranging a beautiful piece of music yourself - laying a foundation that will jumpstart your confidence in arranging and prepare you for all your future arrangements that you've only been dreaming of making.
If you put in the work and follow along with every step laid out in the course...
You'll come out in the end of JumpStart Arranging with your very own complete guitar arrangement!The material in this course is divided into 2 main areas
Here's a sneak peak of what you'll learn inside the 9 main video lessons of JumpStart Arranging:
Module 1: 5 Principles To Jumpstart Your Ear Training
- I walk you through 5 key principles to jumpstart your ear training and enable you to listen to a piece of music and efficiently identify the melody and harmony notes you're hearing, and quickly find those notes on your guitar.
- These principles include my "Busy Street Analogy" that will help you understand how to actively listen to music and isolate specific notes from the mix
- We discuss listening for relativity in the music to help guide your ear from one note to the next, so you don't feel like you're starting from scratch when attempting to identify a new note.
Module 2: The Functional Ear Trainer
- We dive deep into my favorite ear training app, breaking down its uniquely effective approach to ear training called the "Alain Benbassat" method - showing you how you can use this approach to turn your ear into a finely tuned arranging machine.
- We'll cover the basic music theory surrounding scales and keys, showing you how to use that knowledge to make things incredibly easier for your ear by narrowing down the possible notes you can expect to hear in a given song.
Modules 3-4: Musical Ear Guitar Exercises
- Give you the opportunity to practice all of these ear training concepts hands-on with your guitar using real musical examples in my Musical Ear Guitar Exercises.
- I show you how to use what I call the "contextual approach" to simplify the process of identifying the notes you're hearing in a song, and translating those same notes to your guitar.
Modules 5-8: Your Arrangement
- I break the arranging process down into small simple steps as we work together to make your first guitar arrangement, from start to finish.
- These lessons make you feel like you're right here in the studio with me working on an arrangement alongside me as I share every detail of my thought process throughout the entire experience.
- As you progress through your arrangement, I'll teach you how to use the layout of the fretboard to make your arrangements easier to play and fit more naturally on the guitar.
Module 9: Your Next Arrangement
- I give you a roadmap with steps to follow as you tackle your next arrangement - showing you how to capitalize on the confidence and momentum you've gained from completing this course.
I created JumpStart Arranging to be the best resource out there for you to begin your arranging journey with as you make your first guitar arrangement.
JumpStart Arranging - 9 Videos
Fretboard Mastery - 3 Bonus Videos
Jumpstart Arranging Masterclass - 90min Bonus Training