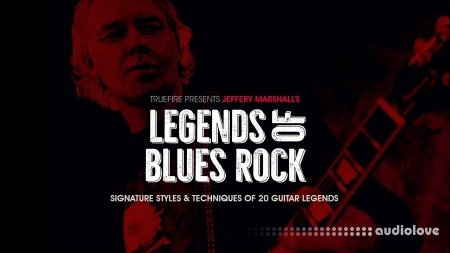 Like any musical language, the styling, vocabulary and techniques of Blues Rock guitar evolved to its present day form thanks to the combined contributions of the legendary guitarists who passed the torch from one generation to the next.
Jeffery Marshall's Legends of Blues Rock takes you on an amazing curricular journey and sonic history, which maps the signature styling and techniques of 20 distinguished Blues Rock artists.
Master guitarist, recording artist, bandleader, producer and GIT instructor, Jeffery Marshall has been a staple of the L.A. music scene for more than 30 years. In addition to releasing his own material, Jeff has produced and recorded countless sessions for numerous artists across multiple music genres. Prog-rock legend Alan Parsons, American Idol runner-up Bo Bice, Blake Shelton, Tim McGraw, and Dwight Yoakum, are just a few of the artists he's shared the stage with.
We're thrilled to welcome Jeff to the family with his first TrueFire course, Legends of Blues Rock. You will likewise be thrilled once you jump on his bus and play your way through this highly illuminating learning adventure.
Your lesson itinerary makes 20 stops: Chuck Berry, Albert King, Keith Richards, Jimi Hendrix, Eric Clapton, Robin Trower, Duane Allman, Dickey Betts, Jeff Beck, Billy Gibbons, Ritchie Blackmore, David Gilmour, Frank Marino, Joe Perry, Steve Ray Vaughan, Gary Moore, Jimmy Page, Robben Ford, Joe Walsh, and Angus Young.
"I've designed this course with the intention of passing on a comprehensive range of phrasing approaches and techniques that you can use in your own playing while developing your voice on the instrument. I hope these lessons inspire you to implement more emotion and feel into your playing, using the techniques we'll cover and practice together."
For each artist, Jeff will demonstrate the aspects of their playing that makes their playing distinctive. After the demonstration lessons, you'll practice those signature moves over a backing track for musical context.
Jeff will explain and demonstrate all of the key concepts and approaches along the way. You'll get standard notation and tabs for all of the performance studies. Plus, you'll be able to use TrueFire's learning tools to sync the tab and notation to the video lesson.
You can also loop or slow down the videos so that you can work with the lessons at your own pace. All of the backing tracks are also included to work with on your own.
Grab your guitar and let's dig in with Jeffery Marshall!