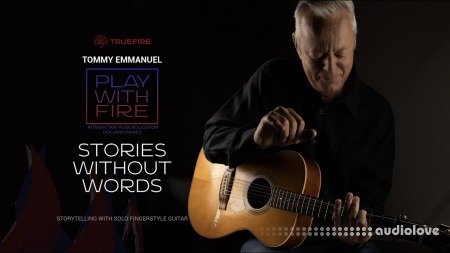 TrueFire's Play With Fire is a curated video series of music education documentaries that examine today's most influential artists and their unique contributions to our musical heritage. In this Stories Without Words edition of Play With Fire, Tommy Emmanuel shares his extraordinary musicality and creative techniques for composing and performing songs that tell "stories without words."
"Hello thrill-seekers! I'm excited to share with you a lot of my early experiences and influences that formed the building blocks for the things that were coming later in my career as a songwriter and performer. We're going to go deeper into the melodic, rhythmic and harmonic approaches that I use today to tell "stories without words."
I'll share some of my early influences and show you how they helped shape my own sound. In particular, Hank Williams, Jimmy Rogers, Marty Robbins, The Shadows, my brother Phil, Chet Atkins and Jerry Reed.
I''ll demonstrate how I use the thumbpick, harmonics, moving baselines, rhythm, melody, percussion, tempo and harmony when writing, arranging and performing songs.
I selected 10 of my own songs to illustrate how to transform all of these influences, approaches and techniques into evocative musical stories that connect with an audience."
Tommy will explain, demonstrate and break down all of the key concepts and approaches in play. You'll get standard notation and tabs for all of the performance studies.
Plus, you'll be able to use TrueFire's learning tools to sync the tab and notation to the video lesson. You can also loop or slow down the videos so that you can work with the lessons at your own pace.
Grab your guitar and let's tell stories with Tommy Emmanuel!