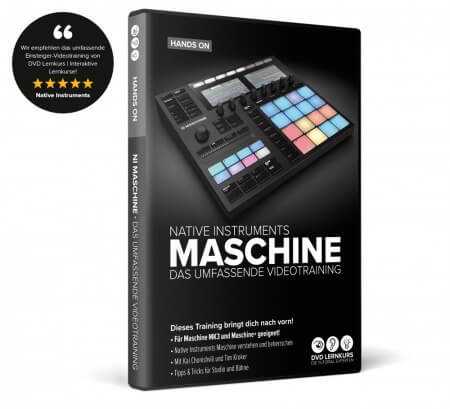 Hands On Native Instruments Maschine - the comprehensive video training.
- Completely re-recorded for Maschine MK 3 and Maschine+
- Understand and master Native Instruments Maschine
- With Kai Chonishvili and Tim Kroker
- Many comprehensive practical examples
- Tips & tricks for studio and stage
This training is the "must-have" for all users of the Native Instruments Maschine! Step by step and easy to understand, you will learn from the Maschine pros Kai Chonishvili and Tim Kroker how to use the NI Maschine MK3 or Maschine+ optimally and successfully for your own music production.
In clearly structured, sequential chapters, the two experts familiarize you with all relevant Maschine functions in detail. Starting with a quick-start chapter for the impatient, everyone will quickly achieve their first sense of achievement. Building on this, Maschine levels (projects, groups, sounds and clips) are then covered in detail in many more descriptive video lessons to convey the potential for complete music production - from A to Z.
Beats are built, sounds are sifted through, instruments are played in a variety of ways, groups are mixed, patterns are recorded, effects are applied, and much more that is important in everyday Maschine practice. Of course, the topic of sampling will not be neglected! You will learn how to use Maschine as a loop station, how to slice breakbeats, how to sample synthesizers, how to remix stems and other tricks related to sampling and audio. Also very extensive are the lessons on the internal instruments and effects - here every parameter is discussed in detail. In addition, of course, the numerous performance options as well as the DAW integration of the machine are described in detail. The course is rounded off with detailed supplements on Maschine+.
Suitable for all Maschine versions (except Maschine Mikro):
The course was recorded with Maschine MK3 and Maschine+ - but due to the identical software, all functions can also be followed with Maschine MK2 and other hardware variants of Maschine.
From the content:
- Quick start and overview
- Machine patterns in detail
- Working with Maschine projects
- Scenes and Sections
- Mixing projects
- Machine groups in detail
- Developing new ideas with "Ideas
- Effects in use
- Polyrhythmic beats and other rhythm tricks
- Fingerdrumming with Maschine
- Key pad modes (keyboard, chord etc.)
- Arpeggiator and step sequencer in use
- Maschine sound generation in practice
- Sampling, loops and audio manipulation
- Numerous practical examples for sound design
- Performing optimally with Maschine
- Maschine as a plug-in for DAWs
- Functions of Maschine+
- Advanced settings and possibilities
- Polysynth (Prophet-5 emulation), new arpeggiator functions etc.
- Many tips & tricks for Maschine practice
Suitable for users of:
- Native Instruments Maschine
This is what this video tutorial for PC, Mac and tablet offers:
- 15 hours of tutorial videos
- Crisp videos in full HD resolution
- Integrated lesson descriptions
- Set your own bookmarks
- Search function to quickly find desired topics
- Videos compatible with iPad and other tablets
System requirements:
- Windows PC 1.6 GHz or higher, min. 512 MB memory
- Mac from OS 10.6.x, min. 512 MB memory
- 1920 x 1080 screen resolution
- Sound card
RUN TIME: 15 hours