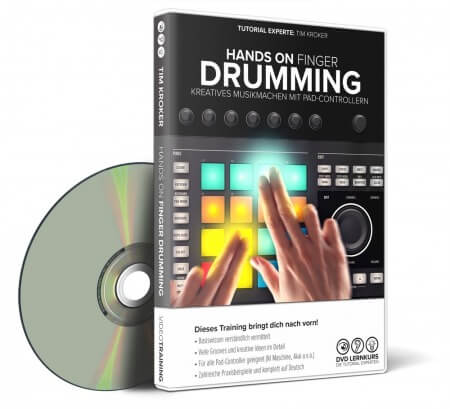 Hands On Finger Drumming - Creative Music Making with Pad Controllers
- Video training for PC, Mac and tablet
- Basic knowledge conveyed in an understandable way
- Grooves and creative ideas in detail
- Numerous practical examples and completely in German
- Can be transferred to all pad controllers
With this video training you'll get a solid start into the world of finger drumming in no time!
Finger drumming expert Tim Kroker (Front 242, Drum Connection and others) guides you through numerous grooves, fill-ins and creative ideas in a clear and easy-to-understand way. Starting with important rhythm basics for learning the first basic rhythms, more complex grooves are explained step by step using practical examples, thus demonstrating the potential of the pad controller as a musical instrument. Of course, helpful tips and tricks from practice are always included for optimal performance.
Of course, the techniques and ideas shown can be applied to all types of pad controllers - for studio or stage!
Tip - also for DJs, musicians and live performers:
This video training is not only the perfect companion for finger drummers, but also for DJs who want to spice up their sets with self-played samples, studio musicians who want to work quickly, effectively and creatively in the studio, live performers who are looking for new ways of expression on stage and for creative minds in the theater/event sector who need to act freely and spontaneously.
From the contents:
- Important basic knowledge
- Overview of controllers
- Finger exercises and playing techniques
- Basic musical understanding
- Basic fundamental rhythms
- Timing exercises
- Eighth note grooves (rock, pop)
- Creative variations
- Eighth note fill-ins
- Playing with different fingerings
- Sixteenth note grooves and fill-ins (funk, disco)
- Playing with cut up samples/loops
- Creative work
- Special finger and pad combinations
- Valuable background knowledge
- Practical tips and tricks
- Incl. bonus sample material
Suitable for users of:
- Users of all types of pad controllers (beginners and advanced).
This is what this learning course for PC, Mac and tablets offers you:
- Over 40 lessons with 3 hours total running time
- Crisp videos in full HD resolution
- Integrated lesson descriptions
- Set your own bookmarks
- Search function to quickly find desired topics
- Videos compatible with iPad and other tablets
System requirements:
- Windows PC 1.6 GHz or higher, min. 512 MB memory
- Mac from OS 10.6.x, min. 512 MB memory
- 1920 x 1080 screen resolution
- Sound card and DVD drive
RUN TIME: 3 hours