Groove3 STRAYLIGHT Explained®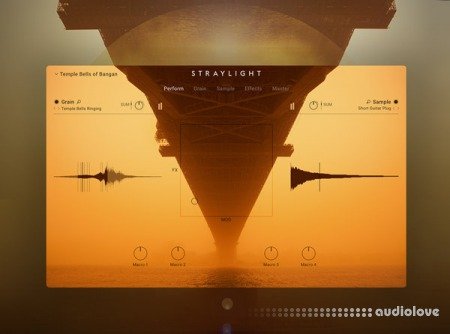 Studio wiz Fabio Lendrum delivers in-depth Native Instruments STRAYLIGHT video tutorials! If you want to learn all of STRAYLIGHT's features and functions, including how to use it creatively to design etheral and emotive sounds, this STRAYLIGHT video tutorial series is for you. Discover the sonic power that Granualar Synthesis coupled with non-linear Sample Playback can generate! These videos are designed for new STRAYLIGHT users.
To start, Fabio welcomes you and then gives you a quick demo of a short composition using STRAYLIGHT, so you can get an idea of what it is capable of. You'll then get instructions on how to install and configure STRAYLIGHT, followed by an overview of the Main Page and its default preset, which contains basic modulation and parameter functions, plus how to change presets from the two different available action menus.
Then it's time to learn all about the Granular Synthesis engine found in STRAYLIGHT, and how it works to generate its truly wondrous sounds, perfect for soundscapes and cinematic passages. After exploring the Grain side of STRAYLIGHT, you'll learn about its sample playback abilities, and how to harness them for endless sonic creation.
Throughout the rest of the videos Fabio covers topics like sound designing with STRAYLIGHT, using its powerful built-in effects, getting creative with the XY Pad, LFOs, Matrix, custom Macros, importing your own samples, and how to compose a short piece of music with STRAYLIGHT.
To see what these detailed Native Instrument STRAYLIGHT tutorials show you, and how they'll open up a completely new world of sonic possibilities, see the individual STRAYLIGHT video tutorial descriptions on this page. Go deep into the other-worldly sounds that STRAYLIGHT can create for your songs and productions... Watch "STRAYLIGHT Explained®" today!