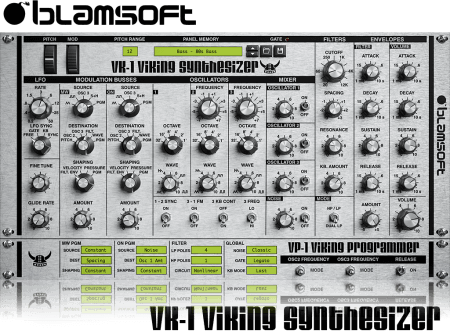 VK-1 Viking Synthesizer gives you the authentic classic analog synthesizer experience. It's a monophonic synth with three oscillators and a 4 pole ladder filter. Add to this plenty of modulation and control voltage capabilities and you get a timeless synth design.
All parameters in Viking have been modeled from real analog hardware, from the oscillator waveforms, to the filter, to the envelopes. Try it out. The proof is in the sound.
Features:
- Road tested analog!
Product Description:
Oscillators
At the heart of VK-1 are three adjustable wave oscillators. The continuously variable waveform knob gives the oscillators a unique sound that can't be achieved with the fixed waveforms found in most synths. A noise oscillator provides three types of noise, one specifically modeled after classic hardware.
Modulation
Two modulation busses and an LFO provide flexible modulation capabilities.
CV
Most virtual analog synthesizers miss out on one of the most important aspects on analog synthesis, control voltage. Numerous individual CV inputs as well as CV inputs into the modulation busses means that everything in the synth can be controlled by CV from other devices in the rack.
Filter
The filter is a classic transistor ladder filter modeled meticulously. Two DSP varieties are available allowing for a cleaner sound or once with a bit more bass. The number of poles is adjustable for a wider range of filter sounds. The drive can be adjusted to control the amount of distortion.
Automation
All of Viking's controls can be automated making it one of the most flexible synths in Reason.
Viking features state of the art analog modeling technology:
- VK-1's oscillators have been measured from hardware
- VK-1's oscillators have drift and jitter
- VK-1's oscillators use advanced techniques to avoid aliasing
- VK-1's filters are nonlinear ZDF with 4x oversampling
- VK-1's envelopes have been matched to hardware