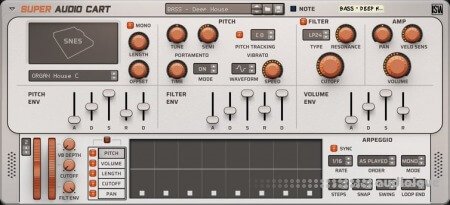 The most complete set of classic video game samples ever produced. Features EIGHT legendary systems from the 70s to early 90s with unparalleled accuracy, plus easy sound design tools to filter, modulate, sequence, and arpeggiate every sound. Ideal for authentic chiptune music, EDM, hip hop, and much more!
Sample Content
- Eight legendary video game systems
- NES, FC, SNES, GB, 2600, C64, SMS, GEN
- Over 6,000 samples
- Over 630 unique sound sources
- All-new SNES ROM sample bank
- Classic GEN game instruments
- Meticulous editing to preserve authenticity
- Recorded using actual hardware
- Includes FC VRC6, VRC7 + FDS chips
Features
- Monophonic / polyphonic playback with optional portamento
- Optional fixed note length, sample offset, and fixed pitch (useful for drums / FX)
- Powerful sequencer with up to five parameters per step
- Alternate arpeggiator and gate modes
- Multimode filter with adjustable envelope
- 14 handy CV modulation routings for your sound design pleasure
- 8 classic video game consoles and handhelds!
- Over 6,000 authentic samples!
- Deep arpeggiator, sequencer + sound design tweaks!