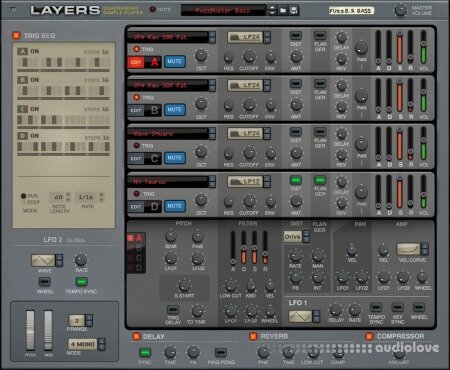 Put the layered sound of classic keyboards in your music. Layers is a virtual collection of sought-after synthesizers from the 80s and 90s, re-imagined in a modern, creative instrument.
With four separate layers of samples, comprehensive effects and modulation and a built-in step sequencer to trigger your sounds, Layers is the instrument that will bring out your best ideas when you need them. Skip straight to the music with Layers' built-in patches from expert sound designers, or get creative and create your own sounds from Layers first-class sample sets. With an easy-to-grasp interface, it's easier than ever to bring out your own rich, evolving synth sounds to suit your musical needs.
The origins
The bulk of the Layers sample set was created by recording a collection of rare and sought-after synthesizers from the golden age of analog. The sampled instruments include:
- Alesis Andromeda A6
- Roland Juno-60
- Roland Jupiter-4
- Korg MonoPoly
- Korg MS-20
- Korg Poly-800
- Moog Prodigy
- Waldorf Microwave
- Oberheim Matrix
- Studio Electronics SE1-X
The sample sets also include acoustic samples and raw waveform samples from the legendary CS-80.
- 4 layers of pristine samples from vintage synths
- Creative step sequencer
- Great library of patches from top sound designers