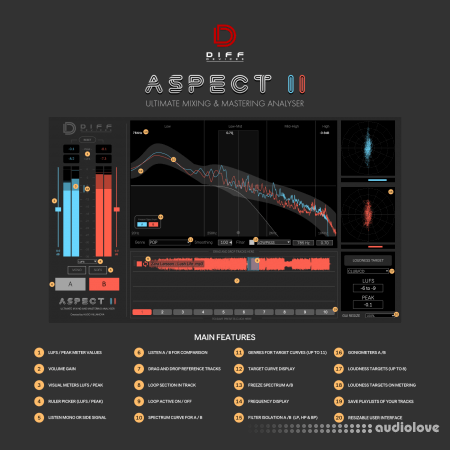 ASPECT II enables you to compare your mix to other mixes with a simple click of the A-B button inside Ableton Live.
It is designed to provide you with an easy, elegant workflow. From drag and drop file loading (you can even drop multiple reference tracks in one go), loop functions, multiple analysis (spectrum, correlation, stereo pan) to industry compliant loudness and dynamics metering.
The trick with using reference files is to be able to instantly hear the contrast and differences between your mix and the kinds of sounds you aspire to. Adding visual feedback from multiple analyses types gives you the visual confirmation of the audio information you are hearing. In environments where listening facilities are less than ideal, it's even more important to be able to do visual checks to ensure the sound is really there.
Using both audio and visual information provides you with the feedback you need to make better decisions on what to do with your mix to get the best possible results. When you are armed with this level of precision and detail, it empowers you to move forward with confidence, knowing that each creative decision is backed by undeniable evidence.
Features in Version 2.0 :
- Lufs / Peak Meter Values
- Volume Gain A/B
- Visual Meters Lufs / Peak
- Ruler Picker (Lufs/Peak)
- Listen Mono or Side Signal
- Listen A/B for Comparison
- Drag and Drop Reference Tracks
- Loop Section in a Reference Track
- Loop Active On/Off
- Spectrum Curve for A/B
- Genres for Target Curves (up to 11 Different music Genres)
- Target Curve Display
- Freeze Spectrum A/B
- Frequency Display
- Filter Isolation A/B (Low Pass, High Pass & Band Pass)
- Goniometers A/B
- Loudness Targets (Up to 8)
- Loudness Targets on Metering
- Save Playlists of Your Reference Tracks
- Resizable User Interface.
*It Requires Ableton Live with Max Installed.
*Ableton Live 10 Minimum