Sean Divine Mastering Chains SR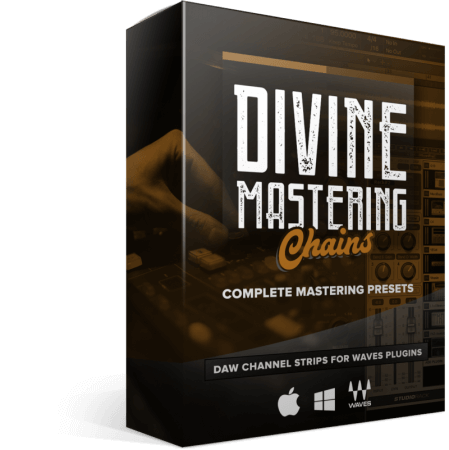 Divine Mastering Chains SR is an exclusive collection of intuitive new mastering presets, powered by the redesigned Waves StudioRack* plugin chainer. These carefully designed chains provide a powerful all-in-one solution to master your songs quickly and easily in the DAW of your choice – no expensive hardware required. Mastering Chains SR makes the mastering process simple and fun while delivering the next-level, finalized sound your music needs to compete.
Effects Processing Includes
Loudness Maximization Dynamic EQ Linear Phase Multiband Compression Parallel Processing Bass Enhancement True Peak Limiting Low Latency Options Low Level Compression Harmonic Distortion Tape Saturation Stereo Width Dithering Real-Time Metering Analog-style Processing Filtering And Much More
This collection utilizes the Waves StudioRack plugin chainer to load complete mastering chains on a single DAW insert, including all internal routings and
8 uniquely programmed "Macro" controls for each preset
. Intelligently mapped macros allow you to conveniently control multiple plugin parameters at the same time with the turn of one knob.
Vitalize. Maximize.
Finalize.
Master Like A Pro In Your DAW
Next-Level Control
Powered by Waves Plugins*
For best results, mix levels should not exceed -6dB True Peak.
Ensure that your final mixes include headroom before processing with Divine Mastering Chains.Product Details
Style:
Hip Hop, Pop, Trap, R&B, Rock, EDM, World
Plugins Required (Not Included)*
: Waves StudioRack (V11/V12), Waves Platinum, Waves SSL 4000, Waves F6
DAW Compatibility:
Most Native DAWs