UVI Soundbank Key Suite Electric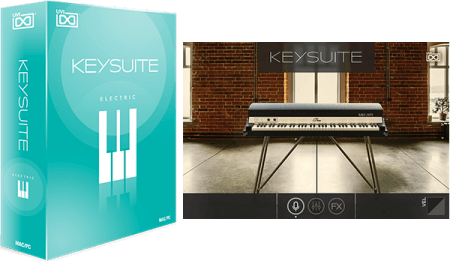 The essential electric keys collection
The result of over 20 years in making sample-based instruments, Key Suite Electric was designed to be your desert-island electric keyboard library. Enjoy a wealth of deeply-sampled and immaculately recorded instruments with a level of sound quality and control you'd only expect to find in a professional recording studio. With 63 instruments in 7 categories Key Suite Electric delivers an incredible selection including multiple flavors of the classics and a number of rare and previously unavailable keyboards. Combine it all with a comprehensive selection of presets, a streamlined user interface, and a pro-grade effect rack, and you have the ultimate suite of electric keys.
Exceptional instruments with real character
Each instrument in Key Suite Electric has its own unique flavor, from soft and malleable tones that bend under your fingertips to shimmering tines, and warm analog basses. Each carefully evaluated, serviced, and auditioned, Key Suite Electric delivers a premier collection of electric keys, from iconic era instruments of the studio and stage such as the Rhodes and CP-70, to the more obscure electric key instruments like the Davoli and Denon Piano. You'll find the classics you know and love and inspiring new sounds rich in character and sonic detail.
Deeply-sampled with the finest equipment
We've gone the distance to create the finest quality recordings and most reliable engine possible. Applying our 20+ years experience in the field you'll hear the difference right away, from the knowledgeable choices in microphones, placement, converters and processing, to the natural response from deep multisampling and precision editing, we've worked hard to ensure Key Suite Electric delivers 'that' sound right from the start.
Professional sound at your fingertips
Great instruments and recordings are only the beginning, with Key Suite Electric we've created a library that delivers not only faithful sound but a fast and flexible interface for sculpting it in any way you need. We've even included a professional-grade effect rack with impulse response processor, multi-band EQ, digital delay, multimode modulation, and reverb so that you can get creative without the need for additional plugins. Get started with the finely crafted factory presets and easily tweak them to fit your mix, or layer them to create your own custom, hybrid instruments!