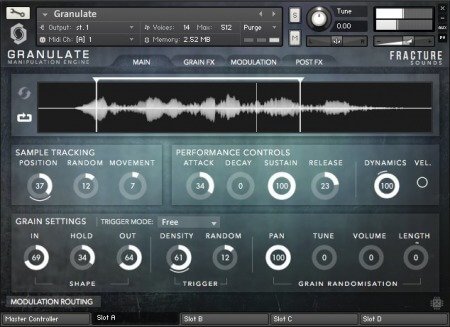 Granulate is a powerful granular manipulation engine for transforming any audio file into a range of pads, drones, textures and rhythmic sounds.
XY Morph Pad
Use the XY pad to morph between up to four granulated sound sources. Each sound is loaded into a separate engine slot, with its own individual manipulation parameters.
The XY pad can be controlled with the mouse, automated with MIDI CCs, or modulated using LFOs to create continuously evolving sounds.
LFOs, Step Sequencers and Flexible Modulation Routing
Each engine slot has four custom LFOs and two tempo-synced step-sequencers. Each modulator can be assigned to almost any parameter on the interface, using Granulate's flexible modulation routing overlay.
Grain, Post and Master FX
17 built-in effects allow you to transform the sound even further. Grain FX manipulate each grain individually (featuring per-grain randomisation), post FX are applied to the output of each engine slot, and master FX affect the entire output of the Granulate instrument.
Beyond Granular Synthesis
The toolset provided by Granulate extends far beyond traditional granular synthesis. Using the wealth of tempo sync and grain sculpting options available, audio can be transformed into percussive and rhythmic instruments and loops. Granulate's range of manipulation options will be a welcome addition to any composer or sound designer's arsenal.
Features
- Over 80 presets, ranging from lush pads and atmospheres, dark drones and rhythmic pulses.
- Create your own sounds - Import any supported audio file and transform it using the powerful granular engine.
- Morph between four different sounds using the XY pad.
- Custom scripted LFOs, step sequencers and flexible modulation routing.
- 17 built-in effects for further grain manipulation.
Please note: This product requires the full version of Kontakt 5.1 or above. It will NOT work in the free Kontakt Player.
New in version 2
- Many new built-in presets.
- Sample markers for selecting a portion of audio to manipulate.
- 'Granulate Quad' mode - Load up to four samples, each with their own granulation parameters.
- XY pad for morphing between different sounds.
- LFOs and step sequencers added.
- Flexible modulation routing system.
- Built-in audio effects added.
- Optional 'CPU friendly mode'.
- Expression pedal support.
- Numerous bug fixes and engine refinements.