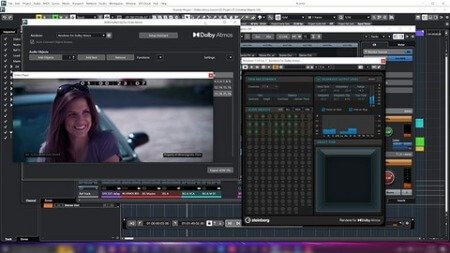 Learn how to produce immersive 7.1.4 Dolby Atmos audio for your Films
What you'll learn
How to create a Professional Dolby Atmos 7.1.4 Production Environment for Film
How to set up the Dolby Atmos Renderer, adding it to your skillset
How to Listen/Mix to Dolby Atmos with Headphones using Binaural Input
Creating Standard Beds and Custom Objects
Producing 7.1.4, 5.1 and Stereo Downmixed Dolby Atmos Mixes
Use HRTF, Head Tracking and Binaural Output to achieve a Headphone mix
Creating 3rd Order Ambisonics
How to achieve a Studio Setup for Dolby Atmos
Tips for the Indie Filmmaker to create a Dolby Atmos Setup
Requirements
Some experience working with film post production audio is preferred but not essential.
Access to a DAW or NLE capable of Dolby Atmos Production on your computer is essential.
Description
In this course, we'll cover how to set up the Dolby Atmos Environment for producing your 7.1.4 Film. This includes the Dolby Atmos Renderer, the Authoring Environment, Creating Standard and Custom Beds, and defining your Objects with a See/Point/Do approach to how you approach your Immersive layout. I just won't show you the path, I'll explain WHY it helps you achieve your goals which I find is the best way to truly learn.This Course is broken into (3) Three Lessons, the first walks you through the Dolby Atmos Environment setup, teaching universal Basics, applicable in almost any Dolby Atmos Production Environment.The Second Lesson finds us really digging in, building on what we learned in the first lesson, we'll set up a full scene, using a production-ready Dolby Atmos Template.In our final Lesson, we will export our Dolby Atmos Mix for import into our NLE finishing platform (Davinci Resolve)By the end, you as a filmmaker will have clarity of Dolby Atmos as a Useful Tool for your films and what it takes to max out your audio presentation and take your films to the next level.Try to remain consistent with your work, follow the instructions, yet stay creative. In Lesson 2, I would recommend using your own scene in the template, instead of copying the one from the videos. It will help you to complete your first Dolby Atmos cinematic production successfully. Have Fun, enjoy, and let's get it started!
Who this course is for
Independent Filmmakers looking to present their films to a wider distribution network
Producers who want the increased benefit that immersive audio gives them
Directors looking for that "Killer" punch that Dolby Atmos provides for action and genre movies
Seasoned Film Editors and Sound Mixers looking to increase their freelance skillset
Published: 4/2023
Created by Joddy Eric Matthews
Format: MP4
Video: h264, 1280x720
Audio: AAC, 44.1 KHz, 2 Ch
Genre: eLearning
Language: English
Duration: 28 Lectures ( 4h 38m )