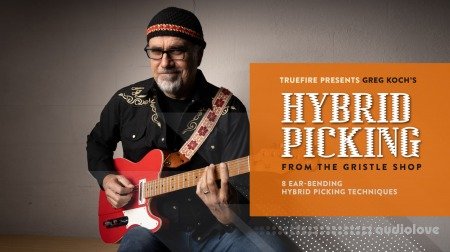 8 Ear-Bending Hybrid Picking Techniques
One of the many "wonders" of guitar is the wide range of picking techniques that guitarists can use to compliment the style of music they play. Most guitarists understand the principles of alternate picking, flatpicking and fingerstyle. On the other hand, one of the most expressive and versatile techniques, "hybrid picking" is a mystery to most guitar players.
If you look up "hybrid picking" on Wikipedia, Greg Koch's picture is prominently and singularly displayed next to the definition (No kidding!). Greg demonstrates and breaks down 8 ear-bending hybrid picking techniques in this Hybrid Picking edition of the Gristle Shop.
"Using both a pick and your fingers together - that's hybrid picking. This course is going to multiply the versatility and color of your guitar playing exponentially. I'll show you eight hybrid picking techniques; from chicken-pickin' to banjo rolls, double-stop harmonics, hybrid train rhythms, and a whole lot more.
There's so much excitement at hand, because we're gonna delve deep into the hybrid hijinks with cool techniques that you can put to work right away. This course is my hybrid picking buffet - a delicious little package of treats to try and feast upon!"
In Hybrid Picking from the Gristle Shop, you'll be schooled on key hybrid techniques through 8 sets of lessons: Hybrid Picking Rhythm Patterns, Chicken Pickin' Single Note Lines, An Essential Travis Pattern, A Delicious Banjo Roll Sampler, Banjo Rolls with Moving Basslines, Double Stops with Open Strings, The Buchanan Triplet, and Cascading Harp Harmonics.
Of course, you'll get standard notation and tabs for all of the playing examples and performance studies. Plus, you'll be able to use TrueFire's learning tools to sync the tab and notation to the video lesson.
You can also loop or slow down any of the videos so that you can work with the lessons at your own pace. All of the backing tracks are also included to work with on your own.
Grab your guitar and let's "pound the gristle" with Greg Koch!