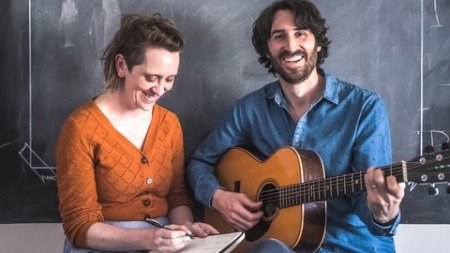 Level up your songwriting with five radically practical exercises used by professional songwriters around the world
What you'll learn
Five practical exercises that will absolutely make you a better songwriter
How to create bangin' Choruses with simple chord combinations
How to draw people in with powerful and inspiring lyrics
How to write memorable melodies
How to avoid lyric writing cliches
Ways to develop strong songwriting habits that will drastically improve your creative flow and output
Live demonstrations and detailed breakdowns of professional songwriting techniques
Practical applications and examples of each method
Overview
Section 1: EXERCISE 1 - SENSE WRITING
Lecture 1 Why Sense-based Language is So Powerful
Lecture 2 Sense Writing - What is it?
Lecture 3 Sense Writing in Action: Live Demonstration
Lecture 4 Analysis: Identifying the Senses and their Impact
Lecture 5 Practical Applications of Sense Writing - How to Use it in Your Own Songs
Lecture 6 Case Studies: 'Bed Song' by Amanda Palmer & 'The Other' by Lauv
Lecture 7 Case Study: 'Nothing' by Bruno Major
Lecture 8 Action Steps - Make Sense Writing Your Superpower
Section 2: EXERCISE 2 - LANDING THE CHORUS
Lecture 9 The HOME and AWAY Function of Chords in Your Song
Lecture 10 Variation 1: Avoiding the Tonic in Your Verse
Lecture 11 Variation 2: Using the Tonic in the Verse and Chorus
Lecture 12 Variation 3: Avoiding the Tonic in the Chorus
Lecture 13 Actions Steps: Working Your Lyrics Through 3 Variations
Section 3: EXERCISE 3: RHYME SCHEMES
Lecture 14 What is Rhyme Scheme and How Does It Create Momentum
Lecture 15 Understanding Rhyme Scheme Notation
Lecture 16 Rhyme Scheme #1: aaab cccb
Lecture 17 Rhyme Scheme #2: abba
Lecture 18 Rhyme Scheme #3: Last Line x
Section 4: EXERCISE 4: SONG FORM BLUEPRINTS
Lecture 19 What is Song From Blueprinting?
Lecture 20 LIVE DEMONSTRATION: Analysis of 'WAY WITH WORDS'
Lecture 21 LIVE DEMONSTRATION: Analysis of 'ANOTHER MAP'
Lecture 22 Using Blueprinting to Improve Your Songwriting
Section 5: EXERCISE 5: MELODIC TIMING
Lecture 23 The Value of Exploring Different Melodic Timing Options
Lecture 24 Demonstration #1: Lyrical Phrase Moving Through 3 Rhythmic Options
Lecture 25 Demonstration #2: Lyrical Phrase Phrase Moving Through 3 Rhythmic Options
Lecture 26 Demonstration #3: Lyrical Phrase Moved Through 3 Rhythmic Options
Lecture 27 Action Steps & Wrap-Up
Songwriters of any level looking for new exercises, techniques, and processes to inspire their songwriting.,People looking for concise, digestible, and immediately practical tips.,People who want to learn from professional songwriters who are also experienced teachers.,Songwriters who love learning and acquiring new skills.,People who have never written a song and want to know how to start.
Published: 2/2023
Format: MP4
Video: h264, 1280x720
Audio: AAC, 44.1 KHz
Language: English
Duration: 2h 57m