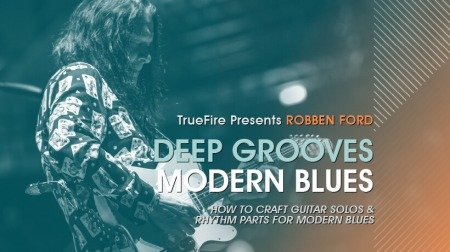 How To Craft Guitar Solos & Rhythm Parts for Modern Blues
Robben Ford's Modern Blues Edition of Deep Grooves, is focused on slower tempo, modern blues grooves that are frequently encountered on the gig, or in a blues jam situation.
Robben will show you how he would craft solos and rhythm parts, over each of the 5 modern blues grooves.
"For this Modern Blues edition, we dug a little deeper to select slower grooves that we felt had a broader emotional spectrum.
Each soloing performance is an improvisation presented in an arc, beginning with the pentatonic scale, moving into the major scale that runs through the chord, into arpeggios, and then we combine them all.
I'll also show you chord voicings and the approach I would use for comping over these grooves and supporting the soloist.
Everything is tabbed and synced to the video. Plus, you'll be able to use TrueFire's learning tools to loop, slow down any video so you can practice and play along with me at your own pace."
Robben explains and demonstrates all of the key concepts and approaches along the way. You'll get standard notation and tabs for all of the soloing and rhythm performance studies. Plus, you'll be able to use TrueFire's learning tools to sync the tab and notation to the video lesson.
You can also loop or slow down the videos so that you can work with the lessons at your own pace. All of the backing tracks are also included to work with on your own.
Grab your guitar, and let's get in a "modern blues groove" with Robben Ford!