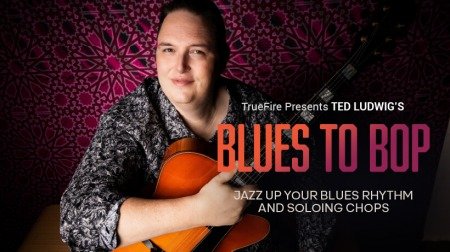 Jazz Up Your Blues Rhythm and Soloing Chops
Ted Ludwig's Blues To Bop is an accelerated curriculum designed specifically for blues guitarists who are eager to "jazz up" their soloing and rhythm playing, elevate their harmonic understanding, and take what they already know and expand their improvisational palette of creative approaches.
Building on a foundation of familiar blues chord progressions and scales, Ted demonstrates the root qualities that Blues and Jazz both share. You'll play your way through a series of soloing performance studies that illustrate how those blues roots evolved in the hands of jazz guitarists – from Blues to Bop!
"Most popular genres of American music stem directly from the blues, most notably Jazz. Syncopated rhythms, swing phrasing, "blue" notes, and the expressive freedom of improvisation are common qualities of both genres. That's why learning how to play the blues is considered the core foundation for learning how to play Jazz.
I've designed this course for two types of students; Blues players who are eager to "jazz" up their musicality; and Jazz players who feel the need to revisit their roots to bring out a little more soul in their playing."
Ted Ludwig is one of the most sought-after players on the New Orleans jazz scene. His ultra-clean jazz style is matched by the clarity he brings in teaching how to play guitar.
You'll have all of TrueFire's advanced learning tools at your finger tips to personalize your workspace and learn at your own pace.
You can loop, slow down, or speed up any section of a lesson. Plus, all of the tab and notation is synced to the videos for the optimal learning experience. You'll also get tab and standard notation files to print out, Guitar Pro files, and all of the backing tracks to practice with.
Grab your guitar, and let's dig in with Ted Ludwig!