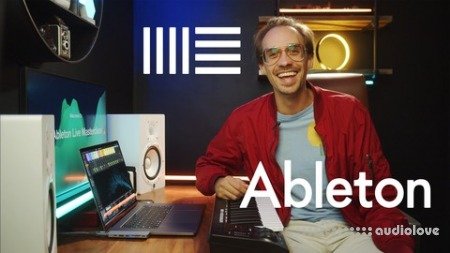 Do you want to Unleash Your Creativity, Learn Music Production, and Make Music?
Perfect! You've made it to the right course!
Music production software like Ableton Live might seem overwhelming. But after this masterclass, your musical ideas will flow seamlessly without any technical hurdles!
Make Your Own Music in Ableton Live 11
This course teaches you how to master Ableton Live 11, a DAW (Digital Audio Workstation) for Mac and Windows.
NOTE: This course is for Ableton Live 11 Suite. Some of the features discussed in this course will only be available for Ableton Live 11 Suite, but many of the features can still be used with all versions of Ableton Live 11 (Lite, Intro, and Standard).
You will also be able to follow along with the majority of this course if you are using previous versions of Ableton Live, such as Ableton Live 9 or 10.
By the end of this course, you'll have mastery over Ableton's layout, features, and functions so you can make your very own song from start to finish!
You'll work right alongside me to learn these main steps:
1. Abletons Fundamentals and Workflow
To begin, we start with mastering the basics. How to navigate Ableton's layout, and learn what all the buttons and tabs do. These essential techniques are a perfect starter for beginners and a great place for more advanced producers to learn how to optimize production workflow.
Develop an in-depth understanding of Ableton's immense interface (session and arrangement view)
Deep dive into the system preferences to optimize and customize your production experience
Master all the hotkeys to streamline your creativity
Decode the secrets of audio, MIDI, Group, Sends, and Master tracks!
Properly set up your sessions with gain staging, signal flow, and track routing!
2. Ableton's Sounds, Synths, and Samples
Whatever your knowledge base, musical skill, or whichever version of Ableton Live you have, I've got you covered! In this chapter, I walk you through Ableton's Most Powerful Sounds that professionals use in hit songs and how you can apply those techniques to your own projects. Get ready to:
In-depth understanding of loops and Samples
Make fire drumbeats with Ableton's: Impulse, Drum Rack, and Drum Synth
Understand the essential synths and samplers including Operator, Simpler, Sampler, Instrument Rack
Learn how and when to use Ableton's more niche synths including Analog, Collision, Electric, Tension, Wavetable
Dive into Sound Design to create your own custom sounds!
3. How to Play, Program, and Edit MIDI notes
Now that we've explored Ableton's synths and sounds it's time to learn how to edit the MIDI notes that play them! Here's where we really start to set your productions apart with next-level techniques! These hands-on lessons will give you the exact step-by-step process to move from intermediate to advanced-level Producing. Together we'll:
Build a solid foundation by playing, programming, or recording Midi notes
Tweak to perfection using Ableton's Quantizing, Velocity, & Change features
Make your music move with Ableton's Groove pool
Learn in-depth MIDI editing using Automation
Do it how the pros do it with Plugins
Get set up and jammin' with you're Midi Keyboard (optional)
Get your beats crackin' with your Beat pad (optional)
4. All About Audio
From recording to sampling to editing, in this chapter, we're going to cover all things audio! So you get all the tools, tips, and tricks under your belt to make the music in your head into reality!
We'll be covering Preparing your Room for Recording, Mic Placement, How to Connect an Audio Interface (optional)
Customize the Metronome, Recording Workflow, and Speaker Setup
Learn Audio Editing, Warping, Resampling
Effectively use Freezing and Flattening Tracks, Optimize your CPU
We'll dive deep into Audio Automation, Automation Layers, Fades, Sample Packs, and Organization
And the "Dos" and "Don'ts" of the new Audio to Midi Feature
5. Audio / MIDI Effects, Sauce It Up!
Now that you're done cooking up the audio and MIDI tracks it's time for some seasoning. This is where you take your tracks to the next level to get a pro-sounding mix
We'll explore the dynamic effects: Compressors, Multi-band Compressor, Limiters, and Side-chains
Get technical with EQs, Filters, and Utilities
Blast off into space with Reverbs, Delays, Modulators, and Resonance
Dial in your sound with Drive, Distortion, Saturation, and Color
Learn the world of midi effects Arpeggiators, Chords, Scales, and More
Pull back the curtain on Autotune and Pitch Correction
6. Course Bonus and Progressing Beyond These Lessons
You've made it! We worked together to grow from beginners (or where ever you came in) to advanced and confident Music producers. In this last step we take a look back on the journey we're been through and how you can continue to progress beyond this course!
Analyze and deconstruct different Songs & Song Structures
Learn the basics of Mixing and Master
Make your own Master Piece
Synthesize, recap, and review all of the most important information learned in the course
Integrate the tools and knowledge to continue improving after graduating from this course
Accept my creative challenge to make your own music!
Special student Bonuses for Completing the Course