Udemy Learn To Code By Making A Music Practice App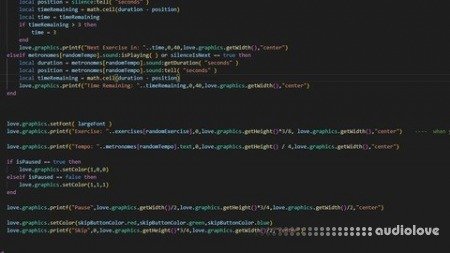 This course introduces students to coding principles while moving towards a finished application. The course will make use of the lua programming language and the Love 2D framework. Lua is a fantastic language to learn as your first coding language; it is easily digested and allows you to get a taste of the core principles of programming.
At the end of the course students will take away their completed practice tool and will be encouraged to customize and personalize their app further.
The app that we will create is a simple application for the purpose of music instrument practice. The app (when completed and fully functional) will choose a random tempo (for example 120 beats per minute) and a random exercise (e.g. A Major). Upon completion of that metronome cycle, a different combination will be chosen at random.
In doing so, you will get hands on with core programming principles and the problem solving required to succeed in future programming endeavours. I hope that you learn to enjoy coding as much as I do and go off to explore your own ideas and creations! I also hope that you make use of your application and that it helps you become a better musician!
What you'll learn
You will get a jump start on coding and programming principles
You will learn programming in a goal oriented fashion
You will gain experience debugging and troubleshooting code
You will obtain the skills to realise your ideas and design when you personalise the app