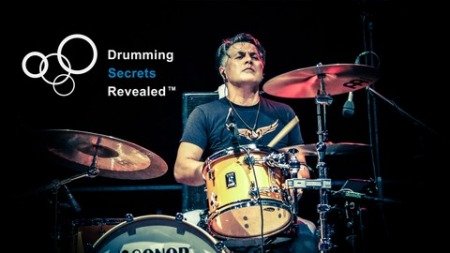 Grow from Basic to Advanced
What you'll learn
Grow from a Basic level to an Advanced level drummer
Knowing how to create a professional study schedule
Building up your endurance and focus in playing drums
You will become more creative at composing your grooves and fills
More than 120 video lessons with multi cam angles
Requirements
This study program works best if you are able to play grooves and fills in 8th and 16th notes. If you can play the following rudiments: single-, double strokes and paradiddles. Use a pair of headphones to enjoy the top quality sound and multi-cam video lessons.
Use headphones so you can hear your coach while studying behind your drum set
Description
Do you recognize this?: You are playing in a band and at the rehearsal all goes well... But once you are on stage to perform suddenly you get nervous; you are playing a bit too rushed and you play the same fills over and over again.....You are following masterclasses, clinics and workshops of the BEST drummers of the planet and you are gathering all the information..... But you don't know how to process all the material; as a result there is still no progress in your playing....You definitely want to become a better drummer and sit behind your drum set every day.... But you don't see or hear any results at all; you are doubting if you got enough talent....The concept: You will get up-to-date video information and clear explanation on what - and how to practice. Your coach Juan van Emmerloot will also accompany you by playing along with every exercise! About  the coach who will help you to achieve your goals: During his 40 years of being a professional live- and studio drummer (Snowy White, Steve Lukather, Stef Burns, Walter Trout, Ayreon) Juan van Emmerloot, professional drummer and drum coach, has taught talented drummers to become successful in their professional careers. Based on this experience he designed an online study concept that is offering structure in your study path.
Who this course is for
You know how to play drums in a band and you have had your drum lessons. But secretly you feel there is still something missing. This online study program is created for advanced drummers and drum teachers
This course is also for drum teachers who are looking for inspiration for expanding their methods
Last Updated: 12/2022
Created by Juan van Emmerloot
Format: MP4
Video: h264, 1280x720
Audio: AAC, 44.1 KHz, 2 Ch
Genre: eLearning
Language: English + srt
Duration: 125 Lectures ( 8h 25m )