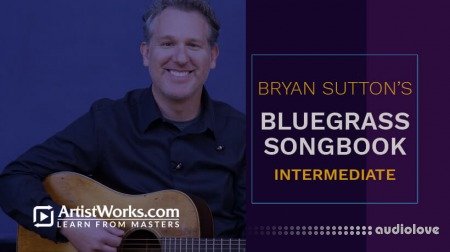 Interactive Video Songbook Masterclass for Bluesgrass Guitar
Bryan Sutton's Bluegrass Songbook series features basic, intermediate, and advanced arrangements for 10 of his most popular song lessons from his top-ranked curriculum on ArtistWorks (our sister TrueFire Studios company).
All of the song lessons have been enhanced with all of TrueFire's interactive learning tools including video-sync tab, looping, slow-mo, animated fretboards and many other handy controls. Now available "anytime, anywhere, on any device" for download and streaming!
"I selected 10 of the most popular song lessons in my ArtistWorks Bluegrass Guitar course; Arkansas Traveler, Billy in the Lowground, Lonesome Moonlight Waltz, Salt Creek , Blackberry Blossom, Shady Grove, RedHaired Boy, Wildwood Flower, Whiskey Before Breakfast, and St. Anne's Reel.
These 10 songs are not just popular in my course, they're popular throughout the whole world of bluegrass and flat picking - we're talking the classics!
I teach them across 3 standalone editions; Basic Arrangements, Intermediate Arrangements, and Advanced Arrangements. My hope is that you'll become as passionate about bluegrass and flatpicking as I am.
Meanwhile, let's dig in and expand your repertoire with these 10 must-know bluegrass tunes!"
You'll have all of TrueFire's advanced learning tools at your finger tips to personalize your workspace and learn at your own pace. All of the tab and notation is synced to the video lessons. You can also loop or slow down any section of the song lesson.
To go much, much deeper with Bryan, check out his highly popular Artist Works Bluegrass Guitar course, which is a thriving community of learners and lovers of this guitar style. Bryan covers every aspect of bluegrass flatpicking including tone, groove, musicality, dealing with tension, performance pressures and more. Plus, you'll have access to the video exchange platform where you can view other students videos or submit your own - Bryan responds to all of them!
Grab your guitar, and let's dig in with Bryan Sutton!