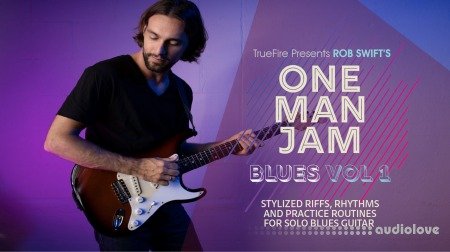 Stylized Riffs, Rhythms, and Grooves for Solo Blues Guitar
Every guitar player loves having a go-to repertoire of solo guitar pieces that they can play for family, friends or on the gig. Rob Swift's blues edition of One Man Jam will tastefully expand your solo blues set list with 5 distinct styles of the blues; Minor, Soulful Gospel, Down Home, Rock n' Roll, and the classic Highway Blues.
"Whether you play for a living or play for love, learning more solo jams not only keeps things interesting for your listeners - it takes your chops to a whole new level. Everything you learn here can easily be applied in a band setting.
I'll show you the core elements, you'll play thru a practice routine, and then I'll break it all down part-by-part. Once you're comfortable in the style, create your own versions, in your own voice."
Gifted guitarist, expert audio engineer, and passionate educator, Rob Swift has dedicated his life to music education helping countless thousands of aspiring players reach their goals on the guitar.
One of the top guitar educators on Patreon, Rob also has 750,000+ subscribers on his very popular YouTube channel, which has racked up over 110-million views and still counting.
We're thrilled to welcome Rob to the family with his first series of TrueFire course, One Man Jam. Your chops will be thrilled as well as play your way through Rob's highly acclaimed teaching methods.
You'll have all of TrueFire's advanced learning tools at your finger tips to personalize your workspace and learn at your own pace.
You can loop, slow down, or speed up any section of a lesson. Plus, all of the tab and notation is synced to the videos for the optimal learning experience. You'll also get tab, standard notation files to print out, and Guitar Pro files to practice with.
Grab your guitar, and let's jam solo with Rob Swift!