Groove3 Creative Ways to Use Delay Explained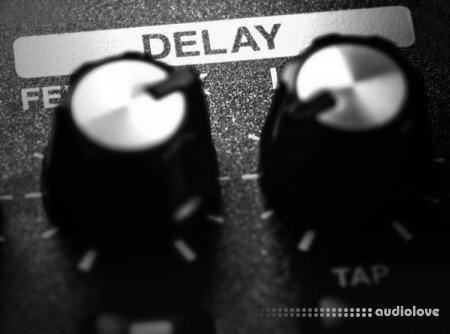 If you think you know everything a delay unit can do, think again! Groove3 instructor Gary Hiebner shows just how many tricks the delay effect still has up its sleeve in this comprehensive delay effect video tutorial course, complete with audio demonstrations. Learn how to create reverse delays, modulated delays, dub delays, and more, and have a blast while doing it! These videos are for those familiar with typical delay effects.
Gary begins by describing some of the many topics covered in this series, so as to whet your appetite for what's to come. He then reviews the parameters on a basic delay effect so that everyone is up to speed before moving on. Learn how different delay lengths can be set - both manually and using tempo-based beat divisions (triplet, dotted eighth, etc.) - and how the feedback parameter works to increase the number of delays heard by "feeding" the delayed signal "back" into the effect.
Next, it's time to get down to some specific uses and effects, beginning with applying filters to the delay, creating a more dynamic delay experience. Learn the difference between using delay as an insert or a send effect and some benefits and drawbacks of each. Then see how to create stereo width by using two delays set to different times and panned on opposite sides.
There's plenty more to come as well, including using delays to create space, adding modulation or saturation, adding reverb to delay, side-chaining applications, using noise gates, adding automation, creating dub delays, combining delays with pitch bends, and more! There's no shortage of inspired sounds available when you get creative with the use!