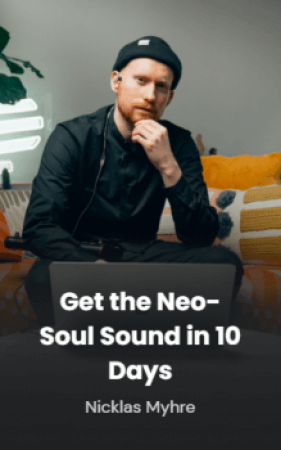 Lock the smooth sound of neo soul under your fingers.
WHO IT'S FOR
Intermediate guitarists
Learn neo soul without getting bogged down by hours of theory. This class is perfect for making quick guitar gains.
TIME
10 days
Nicklas will guide you through 10 days of step-by-step instruction with interactive TAB and daily assignments.
OUTCOME
Play like butter
You'll leave this class with a diverse set of neo-soul techniques that'll turn you into a silky-smooth guitarist.
JUST THE START
Take the next step
Once you've mastered this course, keep learning with advanced Master Classes and guided practice plans.
What you'll learn
Over the next 10 days, Nicklas Myhre will guide you through the cornerstones of modern neo soul guitar.
Learn iconic neo-soul fills and progressions.
Add advanced jazz-fueled sounds to your playing.
Improve your songwriting skills with daily challenges.
Jam out over professionally-produced backing tracks.
HOW IT WORKS
Your guided learning pathway
This music-first course is designed to get you playing neo-soul guitar that sounds great right away. In each lesson, Nicklas breaks down a concept then guides you through exercises and jams to internalize what you learned in a musical context.
How to Get the Neo-Soul Sound
What are the fundamental elements that make up great neo-soul guitar playing?
To kick off the class, you'll learn the essential elements of neo soul by working with colorful chords and connecting pentatonic scales.
Neo-Soul Chord Embellishments 101
Expressive harmony plays a massive role in neo-soul guitar.
In Day 2, you'll learn iconic neo-soul chord embellishments that'll bring your rhythm playing to life.
4 Must-Know Neo-Soul Progressions
In Day 3, you'll study four iconic neo-soul chord progressions to get an understanding of how to build your own songs.
Nicklas will break down the theory behind each of these progressions followed by an interactive jam to help you get comfortable with them.
Day 4. The Best Way to Practice Double Stops
Next, you'll learn how to beef up your lead guitar playing with double stops – a crucial technique for any neo-soul player. This versatile lesson will come in handy for way more than just neo soul.
Day 5. Techniques to Make Your Phrases Flow
There's a reason we associate the words "silky smooth" with neo-soul guitar. In this conceptual lesson, you'll examine a series of techniques and tools you can use to hone your tone and smooth out your playing.
Day 6. How to Play Passing Chords
Listen to any neo-soul song and you'll hear a ton of complex chordal movements. In this lesson, Nicklas pulls demystifies the art of the passing chord so you can breathe new life into your progressions.
Day 7. Chord Extensions to Find Melodies Within Chords
Chord extensions are great for accessing colorful voicings, but did you also know that you can use them to fuel your songwriting? Here, you'll learn how to explore melodic possibilities that are just a pinky away.
Day 8. How to Write Neo-Soul Riffs in 4 Easy Steps
Learning another guitarist's licks is a piece of cake, but you're not alone if you struggle to compose your own material. In this lesson, you'll learn a simple process you can use to cook up your own spicy riffs.
Day 9. Write a Song Walkthrough
To build on your gains from Day 8, Nicklas will take things a step further and break down another straightforward formula you can use to write your own neo-soul songs.
Day 10. Recap & Write a Neo-Soul Beat
Finally, we'll review everything you learned and challenge you to compose your own neo-soul beat!
Bonus Lessons – Neo-Soul Toolkit & 3 Original SongSquads
But wait, there's more! We have seven additional bite-sized lessons where Nicklas breaks down some of his favorite neo-soul tools and techniques that he uses on a daily basis in his viral guitar videos.
He also produced three stank-face-inducing instrumental compositions just for this class. For each song, you get interactive TAB, a lesson breakdown video, and the backing track so you can learn the groove or improvise to your heart's content.
By the end of this class, you're going to have some jaw-dropping tricks up your sleeve.