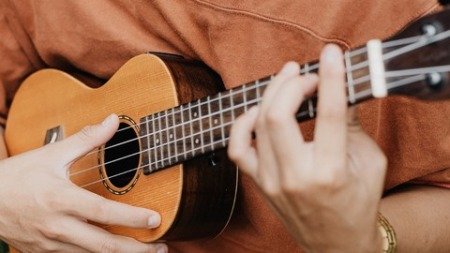 This course has all the things you need to get started with your Ukulele and play songs.
What you'll learn
Ukulele Anatomy (Parts of Ukulele)
Finger exercises, Notes, and Scale
Chords and Rhythms
Learn to top some of the famous Bollywood Songs
Requirements
All you need is a Ukulele to get started
Description
Learn your first chord, the first song, the first rhythm, and a lot more.This is an easy-to-understand step-by-step course to learning Ukulele designed for all age groups.Various Learnings For The Course:Instrument AnatomyNotesBasic Music theoryRight-hand left-hand coordinationC ScaleVarious chordsRhythmHow to play some of the most famous BOLLYWOOD SONGS on UkuleleHere is the flow of this course:You start by learning various parts of the Ukulele including some of the parts that every Ukulele player must know. Moving on to learning how to hold your Ukulele and a simple left-hand and right-hand coordination exercise. After this, we will learn to play notes by learning the C scale and then learn all notes across the entire fretboard of your instrument. After this, we start to learn a few songs. As mentioned earlier, all the songs we learn in this course are some of the most famous Bollywood Songs. First, we will learn a few songs on lead. Lead is when you play a song literally note by note. And then we move on to learning some chords, rhythms, and songs on chords. The course also has simple tips on how to practice singing along with your playing.Chords are a defined combination of two or more notes played in a particular manner. When you play a song on chords, you are basically playing the background music of the songs you are playing.
Overview
Section 1: Introduction
Lecture 1 Introduction
Lecture 2 Ukulele Anatomy (Parts Of Ukulele)
Lecture 3 Most Important Exercise
Lecture 4 C Scale
Lecture 5 Notes
Section 2: Songs On Lead
Lecture 6 Happy Birthday
Lecture 7 Ajeeb Dastaan
Lecture 8 Sawar Loon
Section 3: Songs On Chords
Lecture 9 Chords: C Am F G
Lecture 10 Saibo
Lecture 11 Chaand Baliyan
Lecture 12 Chords: A Dsus2 Fm
Lecture 13 Illahi
Lecture 14 Shaam Bhi Koi
Beginner to intermediate level students can join the course