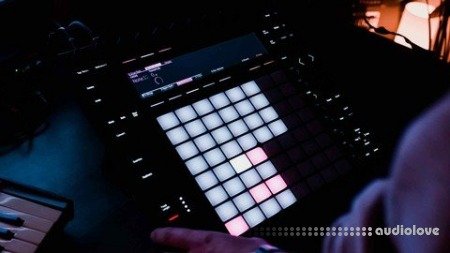 Ableton and Push have evolved and grown into the premier electronic music performance tool. However, (like any instrument) the artist can only express themselves and make music if they understand the tools. If you're new to Ableton or coming from another software and you're looking for clear, concise guidance for making music and understanding the Ableton/Push workflow… this course is for you :)
Getting Creative
The course starts by diving into a real-world track that uses device chains, virtual instruments and presets. As the first section progresses, you'll walkthrough an Ableton project as its fully dissected and explained - channel by channel, effect by effect. The first section presents a multi-faceted, layered track that shows how creative we can be inside Ableton!
Piano Roll
Since the piano roll is where many Ableton users (even Push users) spend a fair amount of time, I've included an entire section of lessons on the piano roll. Since music theory is so closely related to our work in the piano roll, many of the lessons in this section combine Ableton workflow with music theory. You'll learn:
Building Scales (major and minor)
Keyboard shortcuts and workflow acceleration
Creative use of MIDI devices
How to craft good sub-bass
Write chord progressions using numerals
Demystify Push
Once you get your hands on a Push 2, you'll probably feel 2 things: (1) excitement about this awesome, powerful instrument and (2) frustration that it seems complex. Section 4 of this course demystifies the Push. You'll learn about Push's 2 main modes - In Key and Chromatic. You'll learn how these modes are different, how the pads present different visual feedback and when you should use one rather than the other.
The section on Push Pads demonstrates the easiest ways to play chords and melodies on the Push - like a real instrument. Once again, you'll learn how music theory plays a role in the way pads are illuminated and played. You'll learn about playing extended chords and using arpeggiators to add motion to your performances.
Rhythm is King
Of course, electronic music (and ANY music, really) is only as good as the beat underneath. If you've got unresolved questions about those 'fraction' buttons down the right side of your push OR you're wondering how to create more compelling beats, the section on rhythm theory will keep you covered! You'll learn about:
Beats, 1/4, 1/8's and timing
Created complex polyrhythmic beats
Humanizing your beats
Programming familiar beats:
After completing the lessons on rhythm, you'll understand beats intellectually AND you'll feel more confident using your Push to make beats and get level-up your tracks.
Well-Rounded & Complete
The last main section in the course is a video reference that will help you get clear on any aspect of music theory that might still be confusing. From key signatures to triplets, this course will answer your questions and explain everything a context that makes perfect sense inside of Ableton or on your Push!
Each section has been thoughtfully taught - always bringing up the most useful answers to the most common questions. No filler. If you're new to Ableton and Push, this course will get you where you need to be. I've been working with Ableton since version 4 and I've performed live for years with both the original Push and the Push 2. This course is culmination of what I know is useful to every beginner.
The course sections contain a quiz and a project - extra tools for you to evaluate your progress and stay focused as you learn. The quizzes are short, but a great way to make sure you're picking up the most important info from each section. The projects offer you an optional way to practice and consolidate everything you're learning through real-world application.
If at anytime you have questions, concerns or suggestions - simply message me or post in the discussion. I'm super-committed to my online students and I'll always get back to you and be as helpful as I can be. Thanks for checking out this course. Now, let's get started!
What you'll learn
Learn music theory using Ableton's devices and piano roll
Get up to speed using Push 2 to track beats and chords
Layer device chains and plugins to create polished productions
Program familiar beats