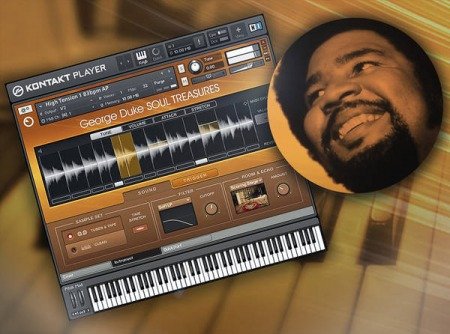 GEORGE DUKE SOUL TREASURES is an exciting loop library/virtual instrument from Native Instruments that puts some world-class funky, jazzy, and soulful keyboard loops at your fingertips. In this GEORGE DUKE SOUL TREASURES video course, studio guru Larry Holcombe walks you through the virtual instrument's features and shows you the various ways you can put it to work in your production workflow. These videos are for new GEORGE DUKE SOUL TREASURES users.
Larry begins with an overview of the plugin - how it works, what it can do, etc. - and a tour of the interface, so you know your way around the instrument. He then moves on to the waveform display, where you're able to manipulate the samples in various ways, including tuning, playback direction, length, volume, etc. Discover how easy it is to drag and drop loops into Logic as MIDI files, which can then be treated however you like.
Explore the Sound page next, which allows you to process the loops with analog tape chains, filters, and echo/reverb. Then Larry covers the Trigger page, where you'll learn how to use a MIDI keyboard to affect tuning, map samples to specific keys, alter FX chains, and more.
Larry rounds out the tutorial with a demonstration of the plugin's capabilities, employing several features, including loop transposition, reversal, and effect variants.
See the individual GEORGE DUKE SOUL TREASURES video tutorial descriptions of more info. If you're looking for ways to add some old-school energy to your tracks, NI's GEORGE DUKE SOUL TREASURES is a fun and unique way to do it. This GEORGE DUKE SOUL TREASURES video tutorial is the quickest and most effective way to learn its features and possibilities, so what are you waiting for? Watch "GEORGE DUKE SOUL TREASURES Explained®" now!