Truefire Matthew Lee's Country Soloing Blueprints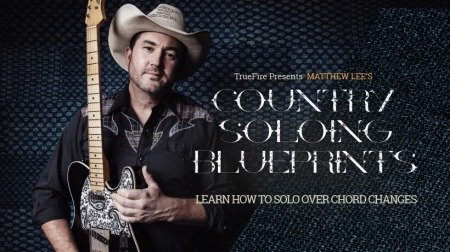 Learn How To Solo Over Chord Changes
Learning how to solo over chord changes is a critical milestone for country guitarists and the key to crafting more melodic, interesting solos and improvisations. There are many approaches for learning how to "play the changes" but selecting which approach is best for a player can be a confusing and challenging undertaking for most players.
Matthew Lee's Country Soloing Blueprints reveals an approach that many professional players embrace because of its simplicity and how quickly players are able to analyze any song or chord progression and start soloing over all of the chord changes.
"I've found that the easiest and quickest way to learn how to "play the changes" is to follow a simple, step-by-step "blueprint", which I'll share with you in this course.
We'll work with four commonly encountered progressions and start by developing a vocabulary of phrases for each individual chord. We then connect our phrases, over the entire progression, to craft a seamless solo across all of the chord changes."
Matthew will explain and demonstrate all of the key concepts and approaches along the way. You'll get standard notation and tabs for all of the licks. Plus, you'll be able to use TrueFire's learning tools to sync the tab and notation to the video lesson.
You can also loop or slow down the videos so that you can work with the lessons at your own pace. All of the backing tracks are also included to work with on your own.
Grab your guitar, and let's dig in with Matthew Lee!