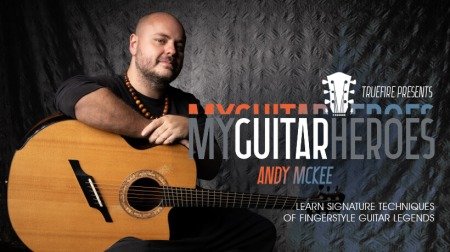 Learn Signature Techniques of Fingerstyle Guitar Legends
Every musician has a long list of other musicians, past and present, that have inspired, influenced and helped shape their own sound and musicality. It's the natural evolution of music. We asked Andy McKee to pass on to you some of the key learnings that his Guitar Heroes passed on to him.
"Preston Reed, Michael Hedges, Billy McLaughlin, Don Ross, Lindsey Buckingham, and Victor Wooten are just a few of the players that greatly influenced my sound.
In this course, I'll first show you a few of the techniques and approaches that I picked up from each one of them and then we'll play through a series of performance studies for musical context, complete with all of TrueFire's learning tools to help you work through the content.
Although percussion had been used before, Preston Reed was really the first guy to integrate it fully into composition. We'll also explore some of the techniques from the guy who revolutionized the acoustic guitar for the world, the one and only Michael Hedges!
Billy McLaughlin's tapping technique was a real game changer for my playing and Don Ross made the acoustic guitar groove like no other. Lindsey Buckingham made me more aware of a traditional fingerstyle approach to the acoustic guitar and his playing still inspires me today.
One of my guitar heroes actually played bass, but his percussive, funky approach to the instrument totally changed the way I play guitar - Victor Wooten!"
Andy will first introduce his heroes to you and describe why he found them so influential. After each discussion, Andy presents a performance study illustrating those influences in a musical context. A breakdown follows every performance and he will explain and demonstrate all of the key concepts and approaches in play.
You'll get standard notation and tabs for all of the performance studies. Plus, you'll be able to use TrueFire's learning tools to sync the tab and notation to the video lesson. You can also loop or slow down the videos so that you can work with the lessons at your own pace.
Grab your guitar and let's dig in with Andy McKee!