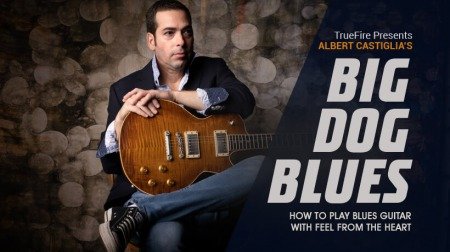 How to Play Blues Guitar With Feel From The Heart
Virtually every genre of American music has deep roots to the blues. Fueled less by proficiency and more by feel, heart and soul… the blues is one of the most expressive forms of music. Expressing emotion through your instrument to connect with an audience is all about "feel" and this is especially true with the blues.
How do you free yourself from playing what you study so you can play what you feel? Albert Castiglia's Big Dog Blues is solely focused on unlocking your door to that creative, expressive freedom.
"It's a revelation to discover the thrilling retro-electric blues from this astonishing young guitarist," says USA Today about Albert Castiglia. Before launching his own solo career, Albert backed legendary blues musician Junior Wells and later went on to work with singer Sandra Hall. His highly successful and critically acclaimed release of his Masterpiece album, won Blues Rock Album of the Year at the Blues Music Awards.
We're thrilled to welcome Albert to the family with his first TrueFire course, Blues Dog Blues! You will likewise be thrilled as you play your way through his engaging, hands-on curriculum - no tedious exercises or struggling through theory.
"Rather than focusing on technical skills, I've designed this course to take what you already know and allow yourself the freedom to express what you feel from the heart and soul.
We'll talk about developing your own vibrato, rhythm playing in two-guitarist scenarios, and dissonant triads. We'll explore creative comping approaches with two-note chords and ninths, where traditional blues met electrified innovation in Chicago.
As we play through the course, I'll show ways to spice up a "lump" shuffle rhythm pattern, hybrid picking, tri-tone licks, other expressive approaches for soloing over changes, and much more."
Albert will explain and demonstrate all of the key concepts and approaches as you play your way through the course. You'll get standard notation and tabs for all of the key examples and performance studies. Plus, you'll be able to use TrueFire's learning tools to sync the tab and notation to the video lesson.
You can also loop or slow down the videos so that you can work with the lessons at your own pace. All of the backing tracks are also included to work with on your own.
Grab your guitar, put the dog out, and let's dig in with Albert Castiglia!