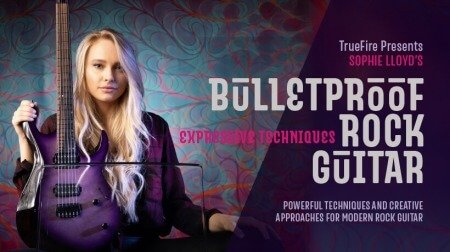 Powerful Techniques and Creative Approaches For Modern Rock Guitar
"As a record producer of such artists as Cat Stevens and Manfred Mann, and more importantly having had both Jimmy Page and Albert Lee in my early 60's band, I know an excellent guitarist when I hear one. Sophie Lloyd is one of them! - Mike Hurst, The Springfields.
With 1+ million subscribers across her social platforms, Sophie Lloyd has earned the respect of guitar players the world over. Not just a masterful guitarist and composer, Sophie is a passionate and highly skilled educator.
We're thrilled to welcome Sophie to the family with this Expressive Techniques edition of her exclusive Bulletproof Rock Guitar series with TrueFire. You will likewise be thrilled when you put her "bulletproof" techniques to work in your own playing.
"Modern rock guitarists use a wide variety of expressive techniques to convey emotion, energy, mood and dynamics in their solos and improvisations. That's why I wanted to kick off the Bulletproof Rock Guitar series with this Expressive Techniques edition.
I'll demonstrate 8 of the most useful expressive techniques and show you how to get them solidly under your fingers. Most importantly, we'll focus on "bulletproof" approaches for applying and combining those techniques in a musical context.
We'll work on soloing approaches using major and pentatonic scales with bends, vibrato, legato, slides, hammer-ons, pull-offs, 3-note-per-string runs, two-handed tapping, sweep picking, and more.
We'll also work on approaches for adding flavor to your pentatonics, mixing major and minor pentatonic scales, creating your own runs and much more.
Everything is tabbed and synced to the video. Using TrueFire's learning tools, you can slow down or loop any of the video lessons to work with the video lessons at your own pace."
Sophie will explain and demonstrate all of the key concepts and approaches as you play your way through the course. You'll get standard notation and tabs for all of the key examples and performance studies. Plus, you'll be able to use TrueFire's learning tools to sync the tab and notation to the video lesson.
You can also loop or slow down the videos so that you can work with the lessons at your own pace. All of the backing tracks are also included to work with on your own.
Grab your guitar, and let's get "bulletproof" with Sophie Lloyd!