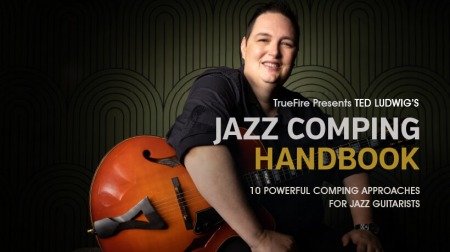 10 Powerful Comping Approaches for Jazz Guitarists
Jazz guitarists spend most of their time on stage comping with the rhythm section to support the vocalist or another player's solo. Learning the variety of comping approaches that you'll need on the gig, or at the jam, is not only essential - it's mandatory for jazz guitarists.
In Ted Ludwig's Jazz Comping Handbook you'll learn 10 of the most important rhythmic, harmonic, stylistic, and even situational comping approaches. These 10 approaches will cover virtually any stage setting, from solo and duos to trios and large ensembles.
"We'll explore jazz comping essentials like Voice Leading, 3-Note comping, Big Band Stabs, Modern Modal comping, Walking Bass lines, Bossa Nova, Situational comping, adding melody to your voicings, and many other versatile approaches to help take your jazz comping to the next level.
For each of the 10 approaches, I'll first explain the how, why and when to use it. I'll then play an example, over a backing track, for musical context followed by a detailed breakdown. You can practice by playing along with me and then playing over the backing track by yourself.
The backing tracks are based on popular jazz standard progressions from songs like I've Got Rhythm, Take the A Train, Little Sun Flower, Just Friends, Meditation and other timeless standards."
You'll get standard notation and tabs for all of the playing examples and performance studies. Plus, you'll be able to use TrueFire's learning tools to sync the tab and notation to the video lesson.
You can also loop or slow down any of the videos to work with the lessons at your own pace. All of the backing tracks are also included as well.
Grab your guitar, and let's comp with Ted Ludwig!