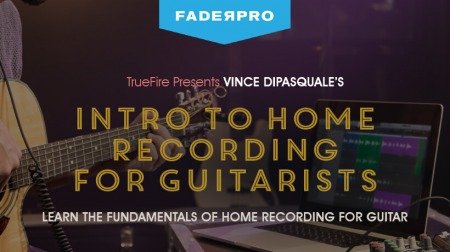 Get Started Recording Guitar at Home with Universal Audio's LUNA and GarageBand
Home recording is rapidly trending within the TrueFire student community. As a reference and study aid, many students are simply recording themselves playing over jam tracks (especially our new multi-track audio jams). Other students are writing and recording their own songs just for fun or with plans to release their own albums.
Given how affordable quality home recording gear and software is today, there's never been a better time to rig your own home recording solution and learn the ropes. And the best way to start learning the ropes is Vince DiPasquale's Intro to Home Recording for Guitarists.
Vince DiPasquale is a multi-platinum music producer, engineer and a co-founder of FaderPro. Over the past two decades, Vincent has quietly garnered attention as a sought-after remixer and studio engineer for some of today's most celebrated artists including Madonna, Nelly Furtado, Justin Timberlake, Mariah Carey, Missy Elliott, Timbaland and many more. Vince has released projects on both major and independent labels including Atlantic Records, Sony Music, Universal, Island Def Jam, Toolroom and Subliminal.
"It's such an exciting time to be creating music! The digital revolution has been disrupting the music industry for a few decades. One of the most exciting developments is how quickly, conveniently and affordably anyone can learn to record themselves from their home.
No matter what your background or skill level may be, you can quickly learn how to record music. With a little knowledge, your home recordings can have the same high-quality and defining characteristics as the recordings produced at the legendary high-end studios that shaped countless classic records throughout the years."
Vince will cover a range of topics to hopefully inspire you to dig deeper, get your home rig set up, and start recording your music. Topics include: The History of Modern Recording, Terminology, Interfaces, Recording, Pedals, FX & Plugins, Using Stems & Jam Tracks, Mixing & Sharing, and Using GarageBand
Dig in on home recording with Vince DiPasquale!