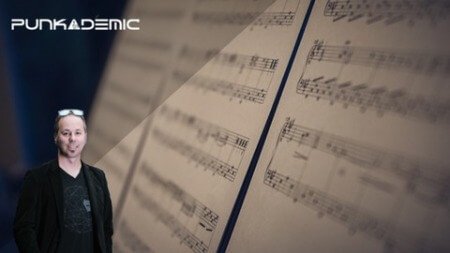 Learn music theory through this music theory course app, music theory exercises, and music theory tutorials
What you'll learn
Master college-level Music Theory Class
Compose music in the style of the great composers
Create more emotional music using suspensions, resolutions, and non-chord tones effectively
Pitches and Pitch Classes
20th Century Music Theory
Set Theory
Serialism
Integer Notation
Requirements
Students should be enthusiastic about music, but do not need to be producers or musicians. No prior experience is needed in music - All are welcome!
Students who have taken Music Theory Comprehensive Part 1 through 18 will benefit from some concepts, but it is not required.
This courses assumes students know the basics of how to read music. (Those who can not identify notes in treble clef should start with Music Theory Comprehensive Part 1)
Description
Welcome to the COMPLETE Music Theory Guide!
This course is "5-Star Certified" by the International Association of Online Music Educators and Institutions (IAOMEI). This course has been independently reviewed by a panel of experts and has received a stellar 5-star rating.
This is a class designed for the average person who is ready to take their music career (or music interest) and level up. Whether you are an active musician, an aspiring musician, or an aspiring music manager or agent - this class is perfect for you.
For years I've been teaching Music Theory in the college classroom. These classes I'm making for Udemy use the same syllabus I've used in my college classes for years, at a fraction of the cost. I believe anyone can learn Music Theory - and cost shouldn't be a barrier.
My approach to music theory is to minimize memorization. Most of these concepts you can learn by just understanding why chords behave in certain ways. Once you understand those concepts, you can find any scale, key, or chord that exists. Even invent your own. If you've tried to learn music theory before, or if you are just starting out - this series of courses is the perfect fit.
Dr. Allen is a professional musician, top-rated Udemy instructor, and university professor. In 2017 the Star Tribune featured him as a "Mover and a Shaker," and he is recognized by the Grammy Foundation for his music education classes.
Throughout this class, If you get stuck, you can review the videos or post a question, and I'll back to it as fast as possible.
This class is a combined class and includes all parts 19, 20, and 21. This is the end of the sequence! It concludes what would be the fourth semester of college-level music theory.
100% Answer Rate! Every single question posted to this class is answered within 24 hours by the instructor.
In this class, we will cover
Set Theory
Pitch Class Set
Prime Form
Normal Order
Interval Vectors
Z-Related Sets
Composing with Pitch Class Sets
My Listening List
Ordered Pitch Sets
Inversion
Retrograde
Retrograde Inversion
Twelve-Tine Rows
The Matrix
Serialism
Total Serialism
Constructing a Row
Serialism in Popular Music
Notation post-1945
Reactionary Movements
Minimalism
Third Stream
Chance Music
Postmodernism
and much, much more!
You will not have another opportunity to learn Music Theory in a more comprehensive way than this.
All the tools you need to successfully learn Music Theory is included in this course and the entire course is based on real-life experiences - not just academic theory.
Please click the "Take This Course" button so you can launch your music career today.
Test Prep:
This course is perfect for prep for the Praxis II Test (ETS Praxis Music), The ABRSM Music Theory Exam (up to Grade 8), AP Music Theory Exam, College Placement Exams (Music Theory), and other common secondary and post-secondary placement exams.