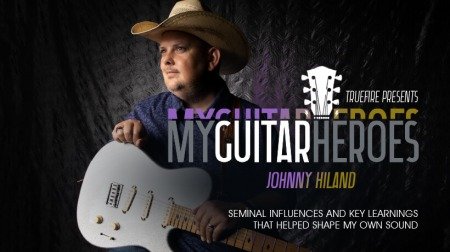 Learn Signature Techniques of Country & Nashville Guitar Legends
Every musician has a long list of other musicians, past and present, that have inspired, influenced and helped shape their own sound and musicality. It's the natural evolution of music. We asked Johnny Hiland to pass on to you some of the key learnings that his Guitar Heroes passed on to him.
"Don Rich, Chet Atkins, Jimmy Caps, Reggie Young, Brent Mason, and Danny Gatton are just a few of my favorite players that greatly influenced my sound, as I'm sure they influenced many other players as well. I'll show you a few of the techniques and approaches that I picked up from each one of my heroes and I'll demonstrate those influences, over backing tracks for musical context.
Don Rich - The King of Bakersfield gave us all that Buck Owen sound we love. Chet Atkins, otherwise known as Mr. Guitar, introduced many of us to that amazing three-finger style using a thumb pick.
The man who taught me what was possible with chord voicings was Mr. Jimmy Caps. Reggie Young taught me how to take double-stops from sounding like chicken pickin' to sounding so sweet and sensuous that you could bring a tear to your eyes. Brent Mason, the most recorded guitar player in Nashville history was the man who helped modernize chicken pickin'!
And last but certainly not least, my favorite Every guitar player of all time, Mr. Danny Gatton. He will always be the player that I'd most like to play exactly like, and try to every day of my life!"
In this course, Johnny will first introduce his heroes to you and describe why he found them so influential. After each discussion, Johnny will then present a performance study illustrating those influences in a musical context, over a backing track. A breakdown follows every performance and he will explain and demonstrate all of the key concepts and approaches in play.
You'll get standard notation and tabs for all of the performance studies. Plus, you'll be able to use TrueFire's learning tools to sync the tab and notation to the video lesson. You can also loop or slow down the videos so that you can work with the lessons at your own pace. All of the backing tracks are included to work with on your own as well.
Grab your guitar and let's dig in with Johnny Hiland!