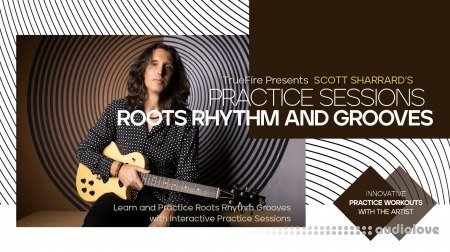 Guitarists spend most of their time on stage playing rhythm guitar. Our role in most band settings, across virtually every genre, is establishing the groove of the songs we're playing with the drummer and bass player. This is especially true with American roots music like blues, soul, funk, rock and even jazz.
In this hands-on Practice Sessions edition from Scott Sharrard, you'll focus on developing solid rhythmic approaches for a variety of roots music ranging from the blues to all of the other roots-based genres that we love to play on the guitar.
"We'll play through 8 powerful interactive practice sessions, each of which spotlights a different rhythmic approach and roots genre.
Each session begins with a quick breakdown of the rhythmic approach and then I'll perform a demo with a rhythm section for musical context. We'll cap off each session trading back and forth with the rhythm section as I guide you through the core workouts and some expanded applications.
I'll detail how to use specific chord voicings to help your guitar parts fit into a rhythm section and an arrangement. We'll use basic scales, triads, and chord tones to give your guitar playing a distinct foundation for the song while also giving you the opportunity to express yourself."
What makes this format really special is how you'll get these approaches firmly under your fingers -- you'll practice each of the 8 approaches together with Scott, in a series of interactive practice sessions.
Scott will kick off each study with a breakdown of the key approach and then he'll perform the approach over a backing track to give you a feel for how it sits in the rhythm section.
You'll cap off each study together with a hands-on practice session. Scott will roll the track and you'll trade back and forth as he guides you through the core examples followed by several variations and embellishments. Working regularly with these "practice sessions" is the key to having command of all 8 rhythm guitar approaches.
You'll get standard notation and tabs for all of the performance studies. Plus, you'll be able to use TrueFire's learning tools to sync the tab and notation to the video lesson. You can also loop or slow down the videos so that you can work with the lessons at your own pace. All of the backing tracks are included to work with on your own as well.
Grab your guitar and let's dig in with Scott Sharrard!