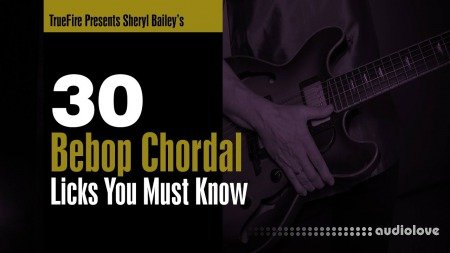 All of the great jazz guitarists can improvise melodically with single note lines, but they also have great command of improvising melodically with chord voicings to create more harmonic interest and better emphasize the changes.
Sheryl Bailey's collection of 30 Bebop Chordal Licks will majorly fill out your vocabulary of chord voicings to "hipify" your harmonic sensibilities for any stylistic setting, from bebop to contemporary jazz.
"By learning any vocabulary of licks, a player can learn the language of a particular style. Even more importantly, licks can create an enlightened pathway to understanding the universal elements of music: harmony, melody and rhythm.
This course will provide you with some indispensable language to begin creating melodies with chords over the most common harmonic patterns in jazz standards and tunes.
With this collection of thirty bebop chordal licks, I'll first give you a demonstration, over a backing track, and then I'll show you how to play it.
You'll practice each line by playing along with me first and then playing the lick on your own, over the backing track.
Stick with me on this journey, and I guarantee that these will also develop your left hand technique to attain the dexterity and flexibility required of a great jazz guitarist."
You'll get standard notation and tabs for all of the playing examples and performance studies. Plus, you'll be able to use TrueFire's learning tools to sync the tab and notation to the video lesson.
You can also loop or slow down any of the videos to work with the lessons at your own pace. All of the backing tracks are also included as well.
Grab your guitar, and let's dig in with Sheryl Bailey!