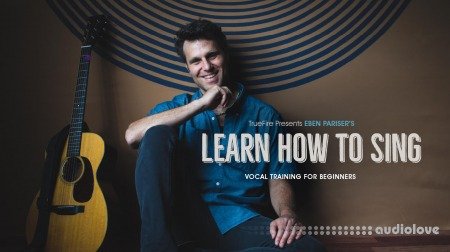 "Everyone who can speak can learn to use a singing voice," says Joanne Rutkowski, professor of music education at Penn University. "The quality of the voice is dependent on many factors; however, barring a physical vocal disability, everyone can learn to sing well enough to sing basic songs."
Yes, you really can learn how to sing! Just like learning any instrument, you simply need to train your vocal cords. You're ahead of the game if you already play an instrument because you're familiar with musical concepts such as pitch, intervals and harmony.
Eben Pariser designed this Learn How To Sing course to help you develop the fundamental vocal skills you'll need to become a lead or back up singer. The interactive video format of the course provides an accelerated learning experience for developing the skills by practicing back and forth with Eben across 25 vocal workouts.
"Building on what you already know by learning core vocal skills for breath control, articulating vowel sounds and harmonizing over a melody will train your "singing voice" for lead or back-up vocals.
Learning these core skills is the primary focus of this course. Using a custom designed set of visual tools and representations, I'll guide you through all the key concepts and techniques you need to know.
Together, we'll sing our way through the entire course, across a series of 25 vocal training workouts. I'll explain the core concepts behind each workout, and then we'll trade back and forth as practice the workout together.
We'll work on essential intervals like fifths and fourths, forming different consonant and vowel sounds, lip and tongue trill exercises, singing lines and runs, finding and singing harmonies in thirds, and many more core skills."
Eben Pariser studied music at the Oberlin Conservatory. He worked for nine years as a neuroscientist, researching birdsong and neurogenesis at New York's Rockefeller University and co-authoring several papers in prominent scientific journals, before shifting to music full-time. He plays guitar and sings in Goodnight Moonshine, and Roosevelt Dime, and has recently become the musical director for Red Molly. His songs "Willow Tree" and "Oh To Be" have hit #1 and #6 on the folk charts. We're thrilled to welcome to the family with his first TrueFire course, Learn How To Sing!
Using a custom designed set of visual tools and representations, Eben will guide you through all of the key concepts and techniques as you work through the course.
A full set of exercises will also be included as mp3 files for you to take your vocal training on the go. Plus, you'll be able to use TrueFire's learning tools to loop or slow down the videos so that you can work with the lessons at your own pace.
Let's start singing with Eben Pariser!