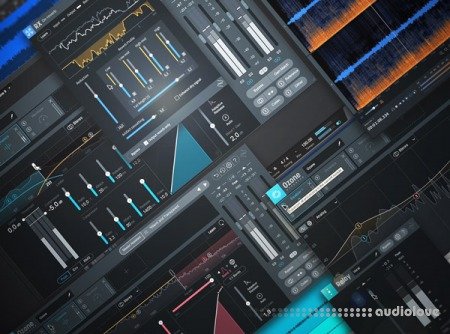 Studio pro Gary Hiebner presents comprehensive iZotope Music Production Suite video tutorials! Learn how to take a 2 channel stereo mix audio file and extract the different elements such as vocals, drums, bass, etc and then import them into a new session and mix them again for better sound, as well as alternate mixes. You also get the stereo mix file used in the videos so you can follow along on your system. These videos are for those who are already familiar with the different plug-ins included with iZotope's Music Production Suite.
Gary greets you and goes over exactly what is covered in this video series, as well as what specific iZotope Plug-ins are used. He then gives you a play-through of the song that needs a better mix, and discusses what elements need to be fixed. Gary then utilizes iZotope's Music Rebalance Module in RX to isolate the instruments into new individual stems, and then save them as individual audio files and then import them into a new DAW session for a new mix.
Throughout the rest of the video tutorials you'll see and hear how to use Neutron's Visual Mixer and Relays to balance the stems, apply corrective EQ to the stems using Neutron's EQ, use RX DeReverb to reduce the amount of reverb on the vocal track to better fit it in the mix, replace an audio stem and mix it back in, use Neutron's Relays to increase the width of the mix, create a new alternate mix to be used as a backing track with no vocals, add mastering EQ for a more polished sound, and much, much more.
For a complete list of what these in-depth iZotope Music Production Suite video tutorials show you and how they'll enable you to take a finished stereo mix and totally mix it again quickly and easily, see the individual iZotope Music Production Suite tutorials descriptions on this page. Take a mix you may not be happy with and remix it again until it's perfect, or just make alternate mixes for live performances and more... Watch "iZotope Music Production Suite: Remixing a Stereo Mix" today.
The Game Of Love
Words and Music by Rick Nowels and Gregg Alexander
Copyright (c) 2002 Spirit Catalogue Holdings, S.à.r.l. and Keepin' It Real How 'Bout You Music Publishing
All Rights for Spirit Catalogue Holdings, S.à.r.l. Controlled and Administered in the U.S., Canada, United Kingdom and Ireland by Spirit Two Music, Inc. o/b/o Spirit Services Holdings, S.à.r.l.
All Rights for Keepin' It Real How 'Bout You Music Publishing Administered by BMG Rights Management (US) LLC
International Copyright Secured All Rights Reserved