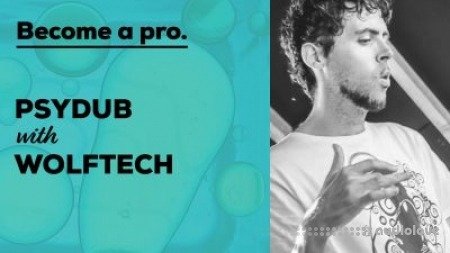 Get in the studio with the Wolf himself and learn how to create powerful future music! Learn how to compose and produce a Psydub track using advanced techniques professionals use to create electrifying music! Watch as Psydub/Glitch hotshot WolfTech walks you through his song production process, going over how he approaches sound design, songwriting, composition, mixing and mastering, and more. We interviewed WolfTech to find out more about his journey, the inspiration he gets from nature's soundscapes and his epic sample collection.
Results You Can Expect From This Course
This course will give you the knowledge and skills you need to:
- Create natural buildups that will add excitement and a sense of movement to your music
- Compose interesting, professional sounding drum patterns
- Use advanced layering techniques to create a fat, big sound
- Improve your workflow by effectively utilising Ableton's groups
- Employ Granular Synthesis techniques to create all kinds of interesting sounds that'll add life to your music
- Layout a composition in the most efficient way
- Make an authentic Psydub Bass Sound using simple yet effective sound design techniques
- Mix and master a Psydub track to professional modern standards
About Your Instructor
WolfTech first burst onto the scene with Wolfen Technologies, later becoming simply WolfTech. Hailing from the UK, WolfTech has released under labels such as Desert Trax (a Desert Dwellers expansive label popular in the US) and was an early member of Shanti Plant, a leading PsyBass/Glitch/PsyDub Label which has grown to have more than 30 talented artists! WolfTech has released 10 albums over the course of 10 years and being multi-talented created all the artwork too! Check them out on bandcamp.
WolfTech received critical acclaim and an amazing response to his release Golden Fractals followed by Deep Space Dubz. This paved the way for his spacey Psydub sound, but he's constantly innovating and merging new sound design techniques with old time trusted studio touches to make several different genres and switch up the BPM.
A regular festival performer, WolfTech has performed at Boom festival, Own Spirit, UfoBufo, Glastonbury, Triplicity, Anthropos, Boomtown, Cosmo, Waveform, Freerotation and many more. Currently he is remixing the likes of Kalya Scintilla, Spoken Bird, Sixis, Landswitcher, Whitebear and many more.
LESSONS
Module 1: Track Preview
Module 1: Summary of Course
Module 2: Drums - Making the Kick
Module 2: Drums - Layered Snare
Module 2: Drums - Drum Groups
Module 3: Bass - Operator Sub
Module 3: Bass - Hi Bass Sounds
Module 4: Melody - Offbeat chink
Module 4: Melody - Live instruments
Module 5: Vocal Chain
Module 6: Solo Synth
Module 7: Reece Bass in Diva
Module 8: Granular
Module 9: Buildups
Module 10: FX Techniques
Module 11: Mixdown
Module 12: Mastering