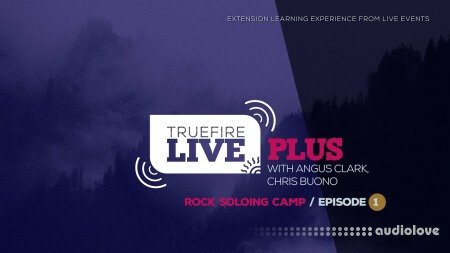 This edition of Blues Soloing Camp featuring Matt Schofield, Kid Andersen, and Josh Smith focuses on a variety of blues guitar soloing techniques and creative improvisation approaches.
Expanding on core concepts from their TrueFire library, the educators present new variations, more advanced techniques, and additional harmonic applications to enhance your rhythm playing over common blues changes.
Matt Schofield's series of lessons cover different ways to tackle blues progressions, focusing on minor pentatonic, major pentatonic, and mixed pentatonic sounds.
Kid Andersen presents three approaches for harmonically relevant soloing by building a simple motif and mixing in some chromatic tensions and spicing up your lines with octave riffs.
Josh Smith closes the camp with three techniques for focusing your solo, by developing themes, restricting your soloing strategy to maximize melodicism, and trading phrases with yourself for more conversational and expressive lines.
The course includes all of the studio, on-location, and live-streamed video lessons, backing tracks, Q&A sessions, and prep materials presented before and during the live Blues Rhythm Camp.
Matt, Kid, and Josh will explain and demonstrate all of the key concepts and approaches along the way. You'll get standard notation and tabs for all of the performance studies. Plus, you'll be able to use TrueFire's learning tools to sync the tab and notation to the video lesson. You can also loop or slow down the videos so that you can work with the lessons at your own pace. All of the backing tracks are included to work with on your own as well.
Grab your guitar, and let's craft some blues solos with Matt Schofield, Kid Andersen, and Josh Smith!