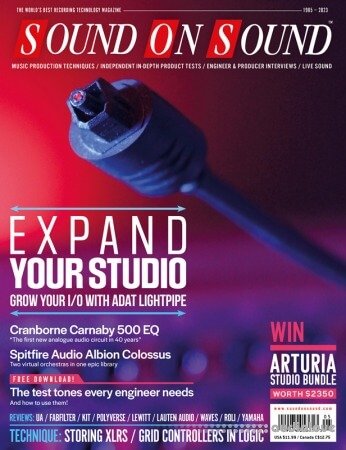 Cranborne Audio Carnaby 500 Harmonic EQ Roland SH-4d synth/sequencer Spitfire Audio Albion Colossus Steinberg HALion 7 Lewitt Connect 6 audio interface Lauten Audio LA-120 capacitor mics ROLI Seaboard Rise 2 keyboard FabFilter Twin 3 soft synth Universal Audio Waterfall Rotary Speaker Roland SPD-SX Pro Electric & Company EC5B comp/lim Lewitt Audio MTP W950 mic Yamaha Stagepas 200 PA MiMU The Jellyfish Rode NT‑USB+ mic Polyverse Supermodal dual filter Radial Reamp Station & Reamp HP Latest sample libraries - and lots more!
Techniques + People:
ADAT Lightpipe: Expand Your Audio I/O [front cover] The SOS Audio Test Files Inside Track: Kali Uchis 'Fantasy' Storing XLR Cables How I Got That Sound: Samuel Dixon 'Switches' Talkback: Maria Elisa Ayerbe - and plenty more! DAW workshops: Cubase, Studio One, Pro Tools, Logic, Reaper, Reason.