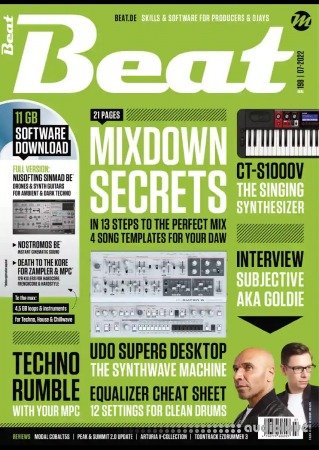 This much is certain: Mixing is (not) an art. The inclined hobbyist can try his hand at the perfect compressor settings, while turbo makers mix while arranging, true to the motto "sounds good, is good". But what to do when the kick doesn't bang, the track in the car makes you howl or the hi-hats on the big PA make your ears bleed? Then there's our 13-point plan ...
Free with Beat 07/22: Drones and synth guitars for Ambient & Dark Techno
SinMad BE is an extravagant combination of virtual analog synthesis and physical modeling. This synthesizer is an excellent choice for drones, dirty feedback sounds and organic textures; thus, its eccentric sound is naturally predestined for Ambient, but can also provide exciting accents in other styles with its unique and experimental sounds.
For Zampler & Akai MPCs: Death To The Kore
Too loud, brutal and broken: With distorted bass drums, screaming synth sounds, aggressive vocal samples and insanely fast beats between 140 and 300 BPM and up, Hardcore Techno, Gabber, Hands-up & the like have been a constant far away from the mainstream since the early 90s. Bet that our latest soundset Death To The Kore brings everything you need for style-typical tracks? Hakkeeeee!!!
Tricks & knowledge for your daily studio routine
BEAT brings you 100 pages of hardware and software reviews, interviews & studio reports, workshops for Cubase, Logic, Live, Maschine, MPC, Bitwig and Studio One, as well as tricks for djaying and live performances.