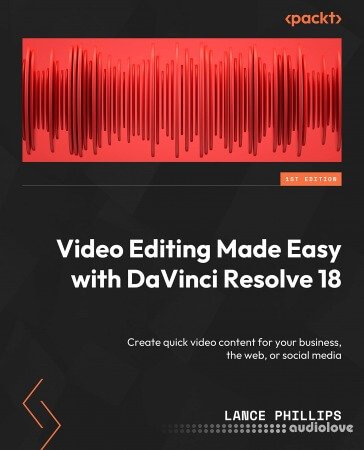 Boost your audience on social media by leveraging DaVinci Resolve 18 and share impressive micro-content with the guidance of a certified Blackmagic Design training partner
Key Features
Enhance your content with creative editing, VFX composition, color grading, and sound editing techniques
Learn techniques to generate quick video content to engage and increase your audience
Discover the latest features and hacks of DaVinci Resolve 18 to realize your creative ideas
Book Description
Micro content dominates social media marketing, but subpar editing and low-quality videos can shrink your audience. Elevate your social media game with DaVinci Resolve - the world's most trusted name in color grading that has been used to grade Hollywood films, TV shows, and commercials. Version 18 enables you to edit, compose VFX, mix sound, and deliver videos for different platforms, including social media and the web.
You'll learn the basics of using DaVinci Resolve 18 to create video content, by first gaining an overview of creating a complete short video for social media distribution directly from within the "Cut" page. You'll discover advanced editing, VFX composition, color grading, and sound editing techniques to enhance your content and fix common video content issues that occur while using consumer cameras or mobile phones.
By the end of this book, you'll be well-equipped to use DaVinci Resolve to edit, fix, finish, and publish short-form video content directly to social media sites such as YouTube, Twitter, and Vimeo.
What you will learn
Explore how to edit, add effects, and post to social media using the new Cut page
Deliver video projects swiftly to a variety of social media formats using the Cut page
Fix problems with videos, such as stabilizing footage and syncing audio
Enhance the quality of your videos through color correction and other visual effects techniques
Discover how to use the Neural Engine AI in the Studio Version of DaVinci Resolve to speed up your work
Add subtitles and dubbed audio to help your videos reach a wider audience
Who This Book Is For
This book is for beginner content makers looking for quick techniques to improve their skills and work. It's also useful for experienced content makers who want to begin using DaVinci Resolve for its advanced features. The book acts as a practical training manual for social media marketers, influencers, short film makers, small business owners creating their own content, vloggers, and film/media studies students at schools, colleges, or universities.
Table of Contents
Getting Started with Resolve - Publishing your first Cut
Adding Titles and Motion Graphics
Polishing the Camera Audio - Getting it in Sync
Adding Narration, Voice Dubbing, and Subtitles
Creating Additional Sound
Working with Archive footage
Stabilizing Footage
Hiding the EditCut: Making our Edit Invisible
Green Screen
Split screens and Picture in Picture
Enhancing Colour for mood or style
Studio only techniques - so much quicker
Glossary of Terms