The Beginner's Guide to DaVinci Resolve 16: Learn Editing, Color, Audio & Effects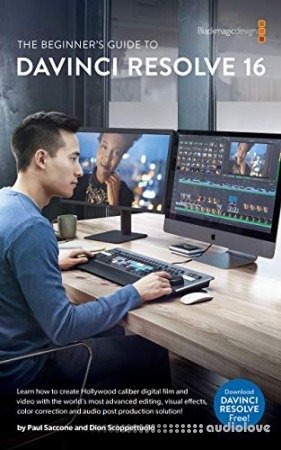 The Beginner's Guide to DaVinci Resolve 16. This official Blackmagic Design Training and Certification book teaches editors, artists and students how to use DaVinci Resolve 16, the only film and video post production solution that brings editing, color correction, audio post and visual effects together in the same software application!
This guide will teach you how to use the revolutionary new cut page, which is designed specifically for editors that need to work quickly and on tight deadlines. It also covers DaVinci Resolve's advanced color correction, powerful editing options on the traditional edit page, Fairlight digital audio tools and fast 2D visual effects compositing on the Fusion page. Best of all, the DaVinci Resolve 16 software is absolutely free! So you can start learning today! The free version of DaVinci Resolve actually has more features than any paid editing system.
That's because at Blackmagic Design we believe everybody should have the tools to create professional, Hollywood caliber content without having to spend thousands of dollars. What You'll Learn: How to edit, add effects and post to the web, fast using the new cut page. How to setup projects, import media and use metadata to speed up your work. Marking selections, editing clips in the timeline, and context sensitive trimming. How to retime clips, add transitions and pan and scan photos. Working with new title templates, creating your own titles and adding animation. How to navigate the Fusion page, use a node based interface for visual effects compositing. Primary and secondary corrections using DaVinci Resolve's legendary color tools. How to match shots, use color management, create looks, grade multiple clips. How to use PowerWindows, track objects in a shot, use curves and add ResolveFX. Audio sweetening and mixing using the Fairlight audio tools. Record voice over directly into the timeline Use new FairlightFX to improve audio quality How to deliver projects to a variety of formats and share directly to YouTube and Vimeo. Dozens of tips and tricks throughout the book that will transform how you work!