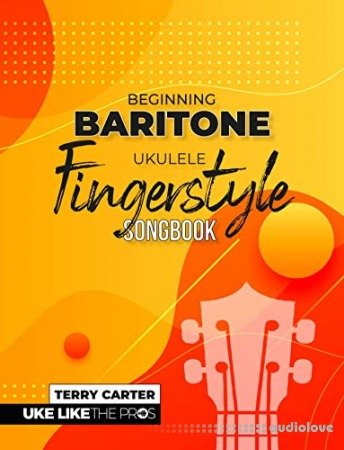 Welcome to the Beginning Baritone Ukulele Fingerstyle Songbook by Uke Like The Pros and written by Terry Carter. This book is written for the beginning baritone ukulele player that is interested in learning how to finger pick. This book will not only teach you some cool songs but will also help you develop the fingerstyle techniques necessary to play more advanced finger picking pieces. By the end of this book you will also learn 7 of the most important and widely used fingerstyle patterns that you can apply to all of your favorite songs.
This Beginning Baritone Ukulele Fingerstyle Songbook is a step by step method to master finger picking. Each of the 7 fingerstyle patterns you are going to learn will be introduced in 2 separate lessons. The first lesson of each fingerstyle pattern will introduce a finger picking pattern and have you practice that pattern over a simple 2 chord progression. This will allow you to focus on learning and memorizing the fingerstyle pattern while not having to worry about switching to a lot of different chords.
The second lesson of each fingerstyle pattern will be an original song written specifically for you to continue to master the finger picking pattern you just learned. But this time you will apply the pattern over a song that uses more chords, moves around different strings and the fretboard, and sounds cool. These songs will give you a sense of accomplishment when you master them and will make people turn their heads to listen when they hear you playing them.
By the end of this book you will not only learn 7 of the most important fingerpicking patterns but will have 7 complete songs you can practice and play. As a bonus, at the end of this book, there is a chord progression already written for you that you can create your own fingerstyle pattern for. Whether you use a pattern that you learn from this book or you come up with your very own pattern, this will help you develop the skill to apply finger picking to any song.
The Beginning Baritone Ukulele Fingerstyle Songbook with also show you different tips and concepts related to fingerstyle playing such as the rest stroke vs the free stroke.
This course was written for standard D – G – B – E baritone ukulele tuning and you can use either high D or low D tuning.
With the purchase of this book you will get free access to the slow and fast backing tracks that accompany every lesson at ukelikethepros.com/baritonesongbook
There is also a complete video course (sold separately) that is available at ukelikethepros.com/baritonefingertyle
Are you ready?
This is what is needed from you.
To make the decision right now that you will stay committed to working on the Beginning Baritone Ukulele Fingerstyle Songbook every day until you get through all the lessons and songs.
That means setting aside some time, even if it's just 15 minutes a day to practice this material.
You will only improve and get better with a daily practice routine and discipline. I realize life it busy with work, families, emergencies and other unexpected things but decide right now that no matter what, even if you must get up early or go to bed late that you will practice daily.
The rewards and growth you will see will outweigh any pain or difficulties you might have to keeping up with your practice.
Don't forget to get your free backing tracks for this course at ukelikethepros.com/baritone-songbook