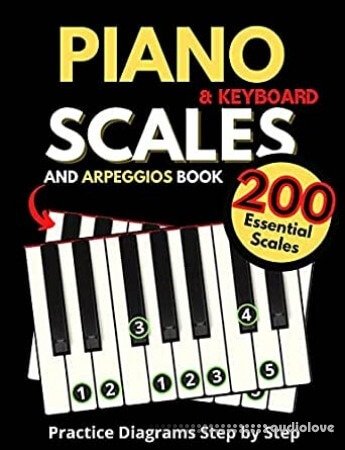 Piano & Keyboard Scales and Arpeggios Book
Learn how to build SCALES and ARPEGGIOS quickly and easily.
Scales and arpeggios are described for right and left hand with description of correct fingering. You will find here theories how to build given scales.
But above all it is a collection of the most popular and useful Scales, Arpeggios major and minor for both hands.
This is a practical guide as well as a collection of scales and arpeggios for every musician in one book.
Have the whole collection at hand in one place
Contents book:
Key designations, Scale and arpeggios How to Read, Intervals Structure, Scales Major and minor,
Arpeggios Major and Minor, Pentatonic Scales Major and Minor, Blues Scales Major and Minor,
Inversion Scale and Arpeggios Theory Structure, Inversion Pentatonic Scales Theory Structure
Modal Scales Major and Minor Theory Structure.
About Book:
- 62 full pages,
- 200 Practical Scales and Arpeggios
- Printed on High Quality white paper,
- The most practical scales and arpeggios
★ By Peter Music Publishing